Փոքր թիմերով մեծ գործեր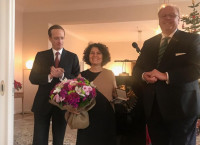 Ասենա Գյունալը պարգևատրվել է ֆրանս-գերմանական մարդու իրավունքների և օրենքի գերակայության մրցանակով
18 դեկտեմբերի, 2019, 07:37
Awarded every year to human rights defenders around the world, the 2019 Franco-German Human Rights and the Rule of Law Prize has been awarded to Anadolu Kültür Executive Director Asena Günal.
Jointly granted by the Foreign Ministries of Germany and France since 2016, the prize is "awarded every year to human rights defenders around the world, but also to lawyers who represent the human rights defenders and journalists who work to make the truth known."
Günal received the prize at a ceremony held at the Embassy of Germany in Ankara today (December 16). The ceremony was attended by MPs Garo Paylan, Ömer Faruk Gergerlioğlu; akademisyenler Atila Eralp, Nilgün Arısan, Feride Acar, Aksu Bora, İlker Aytürk, Zana Çıtak, Funda Şenol Cantek, Yavuz Özkaya, Belgin Özkaya; writer/editor Tanıl Bora.
Receiving the prize, Asena Günal stated, "Being awarded this prize from Turkey the second time after Kerem Altıparmak is indeed a further honor" and made the following speech in brief:
'Increasing state oppression on arts, civil society'
"As someone working in the field of culture, it would not have occurred to me that I would receive a prize in the field of human rights. As the honorable Ambassador has said 'cultural rights are more than just an ingredient to the international human rights framework. Participation in cultural life of the society on the one hand, freedom of expression on the other are indispensable rights of every human being'. However, for many years in Turkey, participation in cultural life and freedom of artistic expression remained as a side issue, because there were more pressing concerns such as torture, enforced disappearance and imprisonment. The struggle for human rights was the one carried out by those keeping watch day and night at the Human Rights Association in case someone appealed for help, lawyers who ran to police stations when people were detained, Saturday Mothers who gathered every week despite all obstacles.
"Today, the field of human rights in Turkey has expanded to include culture. There are two reasons for this: One of them is that people have become aware of the importance of considering access to artistic expression and culture and arts in the framework of human rights. The other reason is that state oppression on culture, arts and civil society has increased. Here, I would like to particularly underline the ongoing unjust detention of Osman Kavala that began two years ago and the following oppression and unfounded allegations that made him a target.
'I have never been alone in this process'
"In trying times like these, such awards give the motivation to persevere, and make you feel that your efforts are worthwhile. I have never been alone in this process:
My feminist sisters who have refused to back down from the streets to draw attention to the brutal murders of women and violence against women despite all the obstructions by the police,
My LGBTI friends who are made targets of and whose marches and artistic events are banned based on alleged security and morality justifications,
My friends who have been dismissed from the academy, put on trial, had to go abroad because they have signed the academicians for peace declaration,
The director Çayan Demirel, who has been sentenced to four and a half years in prison due to Bakur, the documentary he made during the peace process, even though he has a 99% disabled report, and other documentarists on trial,
Oktay İnce, whose archive where he has documented numerous social movements, has been seized and who is struggling to get it back, and other video activists who are trying to document violations with their cameras,
Artists who have not given up their artistic production and continued with independent initiatives when municipalities were appointed trustees by the state and they were left without any space to work, equipment or salaries. We were always side by side.
'We have persisted despite all'
"There is an article I constantly remind myself of in these difficult times. Tanıl Bora, in his article titled "Despite All", writes about those who continued to organize the theater festival in the beautiful city of Sarajevo between 1992 and 1995, while the city was under siege, without electricity; despite all. About those who turn their work into resistance, into a means of healing.
"This is what we have been doing, we have persisted despite all. By doing what we know best: by supporting local initiatives, underscoring cultural diversity and cultural rights, strengthening interregional collaborations, we continued to build bridges between different groups. We have created spaces for artistic expression, organized dozens of exhibitions, panels, screenings, concerts, conducted cultural heritage and archive projects, and have developed training materials for refugee children and youth.
"We have never been alone while doing all these things. Many culture and arts institutions, NGOS, human rights organizations, funders, individuals and artists from Turkey and Europe have shown enormous solidarity with us. They were always in contact and never gave up or hesitated in working with us, supporting us.
'I receive the prize for Osman Kavala'
"I am receiving this prize for my colleagues who continue to work at Anadolu Kültür with extraordinary dedication, my friends who have mobilized when I was taken into custody, my family who has always supported me and of course for Osman Kavala. He wanted me to tell you he is very proud that I am receiving this prize. He has always given us hope, courage and energy.
"I hope that he will be released soon and regain his freedom, so we can continue this work, this struggle together."
This year's prize winners
This year's prize has been granted to the following people working in fields "such as the fight against torture and inhuman or degrading treatment, against forced disappearances, against violence on women, against discrimination of LGBT people and the promotion of gender equality":
Ales BIALIATSKI (Belarus)
Li WENZU (China)
El Nadim Center (Egypt)
Mr Ameha Mekonnen Asfaw (Ethiopia)
Ms Robin Chaurasiya (India)
Nasrin SOTOUDEH (Iran)
Amina HANGA (Nigeria)
Ms Miluska Del Carmen Luzquinos Tafur (Peru)
Ms Mary Aileen Bacalso (Philippines)
Ms Irina Biryukova (Russia)
Ms Delphine Kemneloum Djiraibe (Chad)
Ms Asena Gunal (Turkey)
Luz Mely REYES (Venezuela)
Mr Vu Quoc Ngu (Vietnam)
About Asena Günal
Anadolu Kültür Executive Director. He was the program coordinator of DEPO Culture and Art Center in 2008-2018. She was an editor and editorial board member from 1998 to 2005. She was also the publication secretary and editorial board member of Toplum ve Bilim (Society and Science) magazine.
Books: Bir Daha Asla! Geçmişle Yüzleşme ve Özür [Never Again! Confronting the Past and Apology] (with Önder Özengi); A City That Remembers: Space and Memory from Taksim to Sultanahmet (with Murat Çelikkan); 90'larda Türkiye'de Feminizm [Feminism in Turkey in the 90s] (with Aksu Bora).
She graduated from the Department of International Relation at the Middle East Technical University (METU), she completed her MA studies in Sociology at the same university. She did her PhD at the Atatürk Institute of Boğaziçi University.
(AÖ/SD)
ԾԱՌԱՅՈՒԹՅՈՒՆ ՄԱՏՈՒՑՈՂ ՀԿ-ՆԵՐ
Տեսնել
Allowed file types: .pdf, .doc, .docx, .xsl, .xsls, .jpg
No file choosen