Փոքր թիմերով մեծ գործեր
Հրապարակված է` 25 փետրվարի, 2022
Հետազոտողի կամ հետազոտական խմբի կանչ Հայ առաջադեմ երիտասարդություն ՀԿ-ի կողմից (անգլերեն)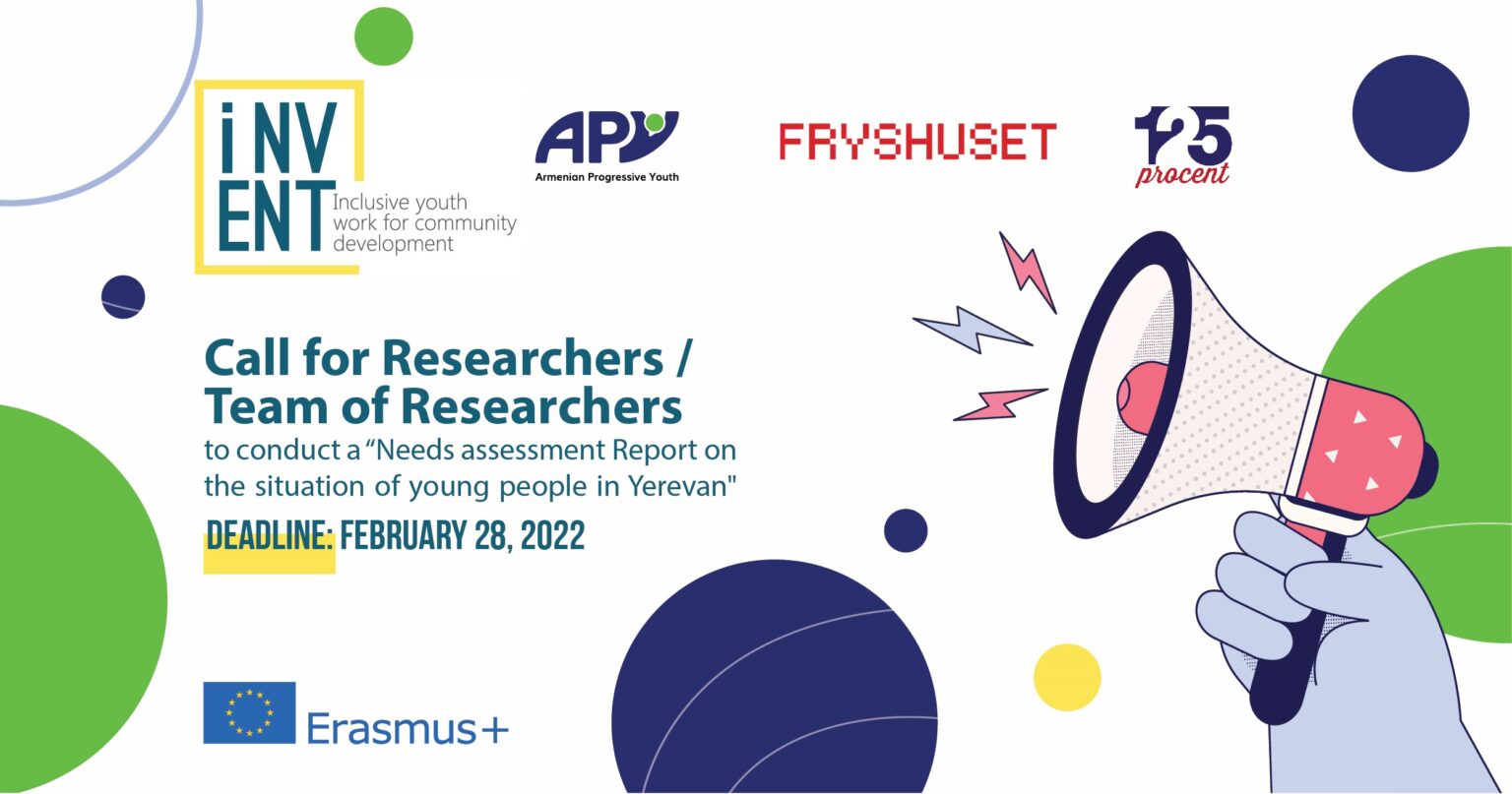 Position: Researcher/Team of Researchers

Service: Compilation of a "Needs assessment Report on the situation of young people in Yerevan with recommendations for adoption in policy and practice regarding inclusive youth work" in English

Location: Yerevan

Type of Contract: Service Contract

Work Plan: The work plan will be made together with APY.

Fees: The total amount for the contract to be negotiated based on the proposition and experience of the service provider.

Payment: A final payment will be made in AMD upon the approval of the submitted deliverables.
Working Conditions

● Based in Yerevan;

● Daily contract starting from 01.03.2022;

● Contract according to Armenian Labour Code.
Desk research: "Context analysis with a specific focus on Yerevan". The desk research will focus on the following aspects:
● Media: media freedom.

● Political conditions: political stability, governance system, the capacity of the state for service delivery, and legitimacy of the state.

● Participation: youth political participation on a national and local level and youth participation in civil society.

● Economic conditions: youth working conditions, inequality among youth individuals/groups, poverty, and social mobility.

● Social-cultural conditions: general living conditions, education, religions, ethnic groups, minorities, and gender aspects.

● Security conditions: security situation related to youth, police, and crime.
Stakeholder's analysis: the analysis will map actors working with issues related to youth in Yerevan. The mapping will answer questions related to:

● Who they are: tasks, target groups, role in the local community and resource capacity;

● Agenda: the actors mandate, mission, and values;

● Where they act: in what areas are they active and source of legitimation;

● Cooperation: Who are they cooperating with and what are their relationships;

● Problem analysis: identification of challenges, needs and windows of opportunities.
The Researcher or the Research group will be responsible for:

● Working closely with the Armenian Progressive Youth NGO project team to agree on the final version of research design and detailed plan of the study;

● Conducting a desk review with a specific focus on Yerevan;

● Analyzing the results of the desk-research and drafting a comprehensive assessment report, including findings and general recommendations to Armenian Progressive Youth NGO on relevant best practices in the EU, the potential of their transferability to the Armenian context and how to adapt them taking into consideration the legal grounds available;

● Creating a stakeholders' map and analysis of stakeholders' activities and their impact related to youth;

● Finalizing and submitting the report in English to Armenian Progressive Youth NGO.
Required Qualifications
● Excellent communication skills

● Excellent command of written and spoken Armenian and English

● Relevant research experience in academic and/or professional settings

● Strong understanding of and interest in public policy and public sector interventions in general and thematic specialization

● Excellent analytical skills and ability to apply them creatively

● Demonstrated writing ability and competence with Microsoft Word

● Good organizational skills

● A demonstrated interest in issues of inclusion and social cohesion
Interested applicants should send their application package to APY email address: [email protected] with the subject line "INVENT Research".
The application deadline is 28 February 2022.

The task should be completed by 30 April 2022.
Please kindly note that only short-listed candidates will be contacted for an interview. No additional information will be given in the office or by telephone.
Application Package
The Application package should include the following documents:
Note: The application files remain the property of APY. By sending information requested under the present job announcement, candidates provide their consent on personal data collection. Also, if not requested otherwise, candidates give their consent to storing information in the APY database.
ԾԱՌԱՅՈՒԹՅՈՒՆ ՄԱՏՈՒՑՈՂ ՀԿ-ՆԵՐ
Տեսնել
Allowed file types: .pdf, .doc, .docx, .xsl, .xsls, .jpg
No file choosen