Փոքր թիմերով մեծ գործեր
Հրապարակված է` 10 մայիսի, 2022
Աշխատանքի հնարավորություն Դոյչե Վելլա Ակադեմիայի կողմից․ հաղորդակցության և միջոցառումների պատասխանատու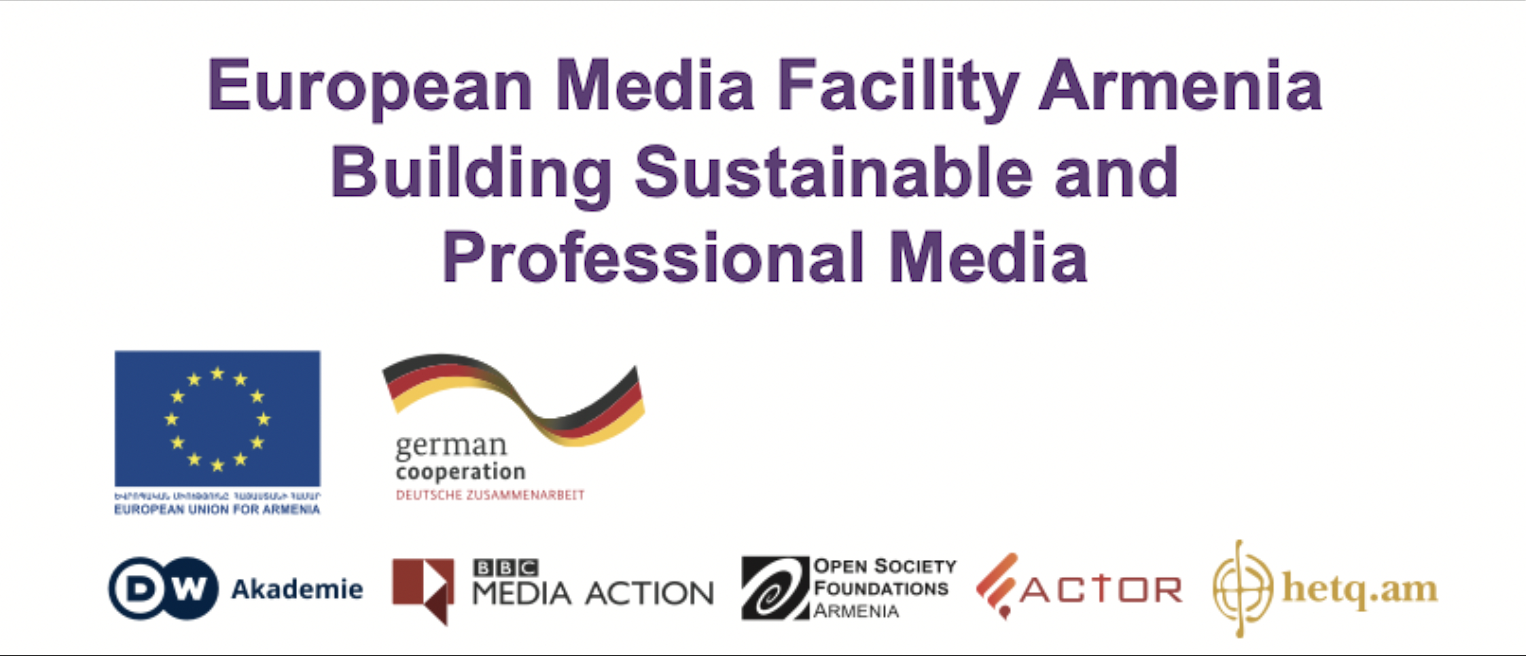 Position: Communication and Event Officer
Number of Work Days: 220 days per year
Start Date: as soon as available
End Date: 30.11.2023
Project & Organization: European Media Facility in Armenia, DW Akademie
Announcement Date: 09.05.2022
Deadline: 26.05.2022
Project Description
The consortium consisting of DW Akademie, BBC MA, OSIAF (executed by OSF-Armenia), Hetq and Factor implement the project "European Media Facility in Armenia – Building Sustainable and Professional Media" funded by the European Union. The overall aim of the project is to contribute to a vibrant Armenian media sector that is able to fulfil its role as a watchdog for Armenian society. In particular, the project aims to support independent Armenian media to become more professional and financially sustainable. The project foresees a whole set of activities, for instance the set up of an E-School for media management, capacity building for fact- checking and investigative reporting, strengthening networks within Armenia as well as with Eastern Neighborhood and European counterparts, and the financial support to regional media organisations.
The project started on 1st December 2020 and will last for three years. Within implementation, the project will target media managers and independent journalists from national and regional media outlets, journalism students, small regional media outlets as well as local stakeholders such as universities.
For further information for this project see our web page.
Job Description:
We are looking for a freelance communication and event officer to support our activities within the project. The communication and event oficer will cooperate with a team based in Yerevan and Bonn. The position is also open to graduates and young professionals.
The primary responsibilities of the position are:
Within a small team based in Yerevan and Bonn, initiate and coordinate comunication and visibility activities of the project and its media partners
Initiate and develop communciation materials for targeted professional as well as general audiences
Visibility and corporate design checks as well as quality control of communciation materials created by other teams
Coordination with other projects and organisations for organsiation, communication, and administrative purposes
On site visits to conduct interviews and find success stories
Collection and archiving of communication materials
Support in online and offline events e.g. coordination of interpretators, participants and (online) venues
Support in study visits, field trips and trainings in Armenia as well as online
Administrative tasks in relation to the activities
Skills and Experience:
Excellent communication skills
Minimum bachelor's degree in communication, journalism or a related field.
Proven experience in creation of communication materials, video, photo, text and other formats in Armenian and English.
Excellent skills to identify communication and visibility opportunities and seek out new ways of communicating things.
Strong interpersonal skills; demonstrated ability to share knowledge, ideas and skills.
Excellent Armenian and English speaking and writing skills. Knowledge of German language will be considered a strong asset.
Familiarity with office tools, especially microsoft 365.
Ability to use design tools, e.g. adobe creative suite or others
Proficiency with social media, especially Facebook
Previous work experience with DW Akademie or other international media development organizations will be considered as a plus.
All interested candidates, who qualify for the above-listed requirements, are invited to send their resume, work samples and a daily gross rate no later than 26.05.2022 to the following address: dw- [email protected] with a subject line communication and event officer.
Deutsche Welle (DW) is Germany's international broadcaster, distributing journalistic offerings worldwide - multimedia and in 30 languages. In addition, DW Akademie strengthens the human right to freedom of information and expression in 50 developing and emerging countries. As a member of ARD, we are proud to make a significant contribution to the diversity of opinion and media with our diverse and high-quality offerings.
We promote diversity and equal opportunities. Your application is welcome regardless of your nationality, cultural, ethnic or social background, sexual orientation, age, gender or impairment. We particularly welcome applications from women for this position. The position can also be filled by part- time employees if interested. In case of equal aptitude we especially take people with severe disabilities into consideration.
ԾԱՌԱՅՈՒԹՅՈՒՆ ՄԱՏՈՒՑՈՂ ՀԿ-ՆԵՐ
Տեսնել
Allowed file types: .pdf, .doc, .docx, .xsl, .xsls, .jpg
No file choosen