Փոքր թիմերով մեծ գործեր
Հրապարակված է` 15 փետրվարի, 2022
Աշխատանքի հնարավորություն OxYGen հիմնադրամի կողմից․ ծրագրի ղեկավար (անգլերեն)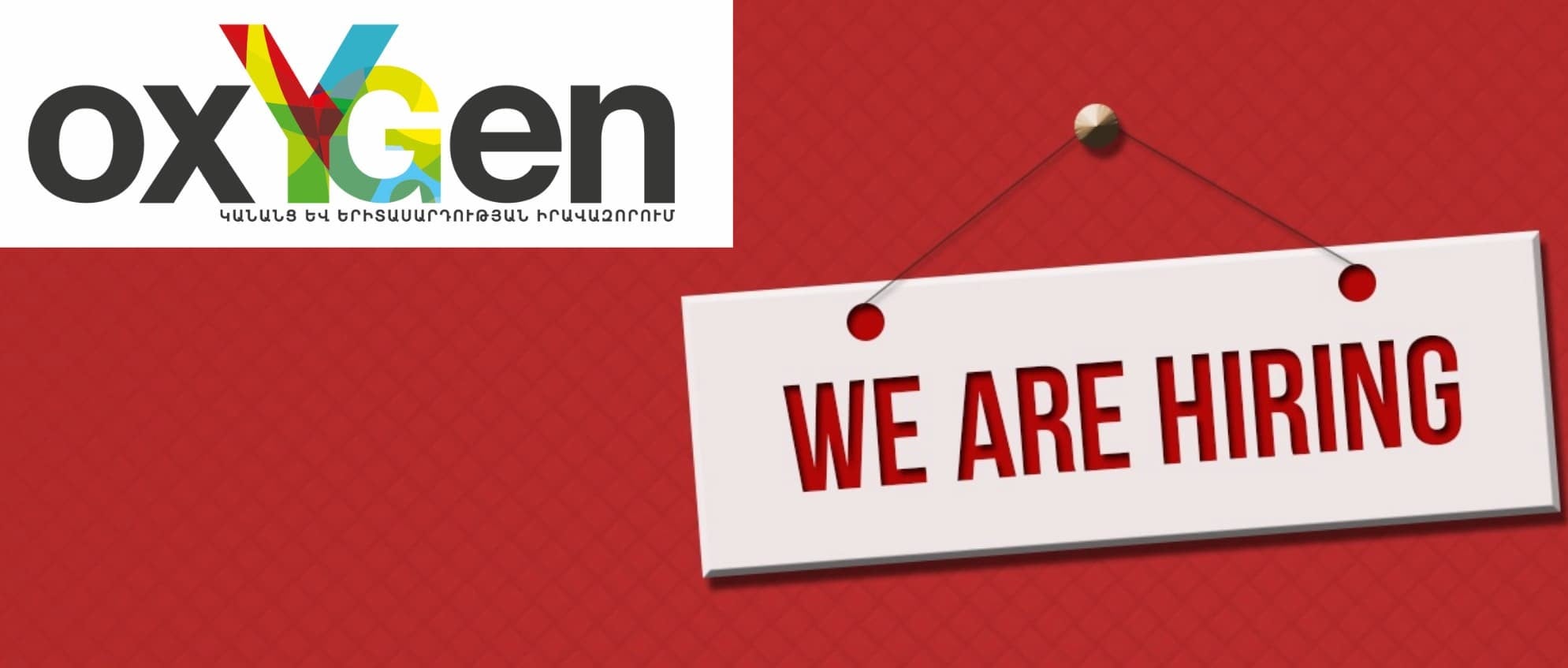 Background

OxYGen is a Foundation, founded by Oxfam GB as an Oxfam spin-off local organization. OxYGen is operating since 2015. OxYGen positions itself as an alternative voice based on its grassroots experience and work with poor communities, through its replicable and sustainable models for translating it up to the national level. Accountable Governance alongside others is the main strategic direction for OxYGen Foundation under which the main programs are developed and implemented.

Key Responsibilities
The Accountable Governance PM will be responsible for the overall management and implementation of the projects/programs under AG. The PM will be responsible for the overall management, supervision, and coordination of OxYGen AG programs, partnership, ensuring compliance with donor and partner requirements, timely and quality reporting to the donors.
Program planning

➢ Develop and keep up to date detailed implementation plan of the projects

➢ Plan detailed activity timeline

➢ Plan project expenditures according to the project budget

➢ Develop project stakeholder engagement plan

➢ Develop a project procurement plan

➢ In partnership with partners design project advocacy plan

➢ Facilitate recruitment process of project consultants based on OxYGen Foundation's and donor procurement policies

Execution

➢ Overall management and implementation of the OxYGen Foundation's AG program

➢ In cooperation with Financial Manager assure effective and efficient expenditures of within projects budgets according to donor requirements

➢ Assure engagement of relevant stakeholders in project implementation

➢ Provide support and capacity building to the staff whenever necessary to assure timely execution of the projects

➢ Manage contracts and meeting timelines for deliverables by project consultants/experts

➢ In cooperation with project partners and OxYGen Foundation senior management assure reaching the project's advocacy targets

➢ Develop synergies with other programs of OxYGen Foundation

Monitoring and reporting

➢ Conduct overall monitoring of project implementation and progress

➢ Monitor expenditures versus planned budget
➢ Monitor project effectiveness and efficiency
➢ Monitor staff performance versus set objectives and job descriptions
➢ Evaluate external consultants' performance and the effectiveness of expertise delivered and provide recommendations for improvement if applicable
➢ In cooperation with project staff develop programmatic and financial progress and final reports to the donor as per the donor requirements
Representation, learning, and communication
➢ Develop good relationships with donors, make funding proposals and ensure that the terms of donor contracts are fulfilled
➢ Maintain contact with official authorities and other agencies and ensure that OxYGen complies with the relevant legislation and that its activity is understood and publicized
➢ In close collaboration with the Communication team identify and conduct impact assessment initiatives and ensure effective communications about program impact with key relevant stakeholders
Key skills, competencies and qualifications required
➢ 3 to 5 years experience in NGOs in program management positions
➢ Proven skills and experience in advocacy and policy dialogue at national and local levels
➢ Solid background, good understanding, and proven experience in the Accountable Governance field
➢ Fund-raising skills and experience
➢ Good knowledge of Gender Equality in Armenia
➢ Excellent knowledge of Armenian and English languages, both oral and written
➢ Fluency with the Microsoft Office package, knowledge of online IT tools is a plus
➢ Proven experience in proposal writing and fundraising
➢ Strategic thinking
➢ Analytical skills
➢ Communication and negotiation skills, teamwork
Reporting lines
The Program Manager will report directly to OxYGen Foundation's Executive Director
The PM will supervise the work of relevant POs and other staff under the project Applications can be submitted by e-mail: [email protected]
Mail Subject: Accountable Governance Program Manager
The application includes CV and Motivation Letter
The deadline for submission: 18 February 2022
Only the short-listed candidates will be invited for an interview
ԾԱՌԱՅՈՒԹՅՈՒՆ ՄԱՏՈՒՑՈՂ ՀԿ-ՆԵՐ
Տեսնել
Allowed file types: .pdf, .doc, .docx, .xsl, .xsls, .jpg
No file choosen