Փոքր թիմերով մեծ գործեր
Հրապարակված է` 20 հոկտեմբերի, 2021
Աշխատանքի հնարավորություն ԱՄՆ ՄԶԳ-ի կողմից․ հաղորդակցության գծով օգնական (թարգմանիչ) (անգլերեն)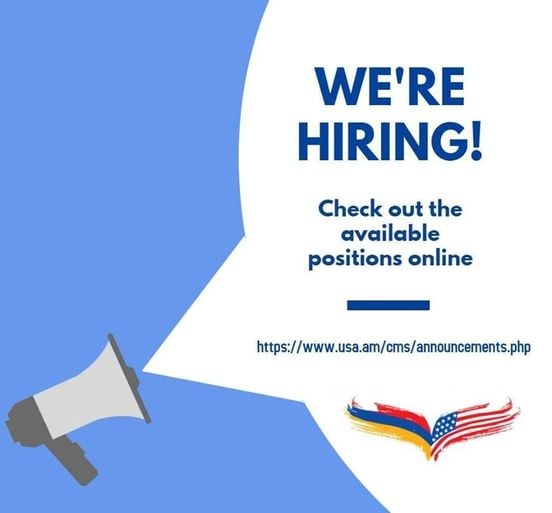 The Source of the announcement can be reached here!:
Note: In order to access the full application, please click here!
GENERAL INFORMATION
1. SOLICITATION NO.: #72011121R10011
2. ISSUANCE DATE: 09/30/2021
3. CLOSING DATE/TIME FOR RECEIPT OF OFFERS: 10/29/2021 (17:00 Armenian time)
4. POINT OF CONTACT: USAID/Caucasus HR office, e-mail at [email protected]
5. POSITION TITLE: Translator [post title: Communications Assistant- Translator/Interpreter]
6. MARKET VALUE: AMD 11,367,063-AMD 16,482,268 equivalent to FSN-08 level in accordance with AIDAR Appendix J and the Local Compensation Plan (LCP) of U.S. Embassy-USAID/Armenia. The LCP consists of the local salary schedule, which includes salary rates, authorized fringe benefits, and other pertinent facets of compensation. Final compensation will be negotiated within the listed market value.
7. PERIOD OF PERFORMANCE: Estimated to start o/a January 16, 2022 through September 30, 2026 Employment under this contract is of a continuing nature. Its duration is expected to be part of a series of sequential contracts; all contract clauses, provisions, and regulatory requirements concerning availability of funds and the specific duration of this contract shall apply.
8. PLACE OF PERFORMANCE: Armenia, Yerevan
9. ELIGIBLE OFFERORS: All interested Cooperating Country Nationals (CCN)- citizens of Armenia
10. SECURITY LEVEL REQUIRED: Facility and computer access
11. STATEMENT OF DUTIES
The Communications Assistant (Translator/Interpreter) is located in the Development Outreach and Communications (DOC) team, within USAID/Armenia's Strategy and Program Support Office (SPO). The position is responsible for providing translation, interpreting services and communications/outreach support to the entire USAID Mission. The Communications Assistant (Translator/Interpreter) is the sole translator/interpreter performing these duties in support of Mission operations, translates a variety of documents from English into Armenian or Russian and from Armenian or Russian into English. The Communications Assistant (Translator/Interpreter) frequently interprets orally between Armenian and Russian and English, particularly when accompanying the Mission Director or other senior Mission management in public appearances and in meetings, and at other times, such as when changes in program/project/activity agreement language are being negotiated/renegotiated at one of the Government of Armenia (GOAM) Ministries. Additionally, this position supports the Mission's communications and outreach efforts and may serve as a backstop to the DOC team, providing support for program administration, content development, editing and event preparation. The Communications Assistant (Translator/Interpreter) reports directly to the Senior Development Outreach and Communications Advisor and collaborates closely with the members of the DOC team, technical offices, the Mission's Executive/Front Office, and implementing partners to provide translation/interpretation/communications support in line with the Mission's overall communications program. The Communications Assistant (Translator/Interpreter) collaborates as well with the U.S. Embassy's Protocol Team/Translator, and the Embassy's Public Diplomacy Section (PDS).
MAJOR DUTIES AND RESPONSIBILITIES:
A. Translation 35%
- The Communications Assistant (Translator/Interpreter) receives requests for documents for which translations are required by E-mail and with the approval of the Supervisor assigns priorities using judgment and knowledge of Mission programs, or by discussion with requesting personnel, and referring to the Office Chief or Team Leader for resolution when necessary.
- The Communications Assistant (Translator/Interpreter) translates, edits and types of documents from English into Armenian or Russian, or from one of those languages into English, using word processing programs. The work includes a variety of technical documents, including bilateral agreements; correspondence; grant letters, contracts and similar program/project/activity documentation; and reports on specific subjects, requiring research and use of particular terminology, such as taxation, agriculture, accounting, natural resources, economics, legal documents, democracy and governance, health care, demographics, finance and banking, etc. and outreach products for social media, website, etc.
- The Communications Assistant (Translator/Interpreter) reviews, edits and redrafts letters and other documents/products drafted in Armenian or English by U.S. and FSN staff, such as correspondence, diplomatic notes, speeches for the Mission Director, talking points for high level discussions, etc. Similarly, the Communications Assistant (Translator/Interpreter) translates types of Government of Armenia (GOAM) letters and other documents needed by Mission staff members, for internal use from English to Armenian; reviews and edits documents translated from English to Armenian by Office Secretaries or other staff; and serves as an authority on adequacy of such translations.
- The Communications Assistant (Translator/Interpreter) is consulted by project management staff, assistants, and other Mission staff to seek clarification on exact and accurate phraseology and terminology to be used in English or Armenian in the preparation of reports and other materials. In this process the Communications Assistant (Translator/Interpreter) works with a significant level of independence. Documents translated into Armenian or Russian are not reviewed by the supervisor for content or grammar.
- The Communications Assistant (Translator/Interpreter) maintains files of past documents personally translated according to the Mission's file procedures/knowledge management structures, ensuring that they are readily available.
B. Interpretation - 35%
- The Communications Assistant (Translator/Interpreter) accompanies the Mission Director, and other Mission officials to public events, ceremonies, meetings, and seminars in order to provide oral translations and interpretation between Armenian and English (or sometimes Russian and English). The Communications Assistant (Translator/Interpreter) is occasionally called upon to provide simultaneous interpreting for the Director, the Ambassador, and others in formal meetings, and as needed, with the press.
- The Communications Assistant (Translator/Interpreter) travels to program/project/activity sites and other locations within and outside Yerevan to accompany officials for inspection visits, presentation ceremonies, communications story collection, and the like.
- As required, the Communications Assistant (Translator/Interpreter) accompanies Office Chiefs to meetings and provides oral translation services at seminars and lectures, etc.
C. Communications - 30%
- The Communications Assistant (Translator/Interpreter) maintains a good knowledge of Mission programs, and assists in the preparation and editing/copy-editing of a variety of internal and external documents including, briefing materials for the press, public, VIP visits and other events/meetings as needed, public outreach materials (brochures, press releases, factsheets, newsletter, success stories, social media, website, etc.), cables, budget planning documents such as Project Performance Reviews and Operational Plans, presentations, etc.
- The Communications Assistant (Translator/Interpreter) assists in organizing logistical support for press events and VIP visits, including coordination with the Embassy Public Diplomacy Section, USAID partners, and GOAM representatives. - Reviews and monitors the external Mission website and intranet on a regular basis to evaluate its accuracy; monitors the local press and flags USAID related reporting for the DOC team and Mission leadership.
- The Communications Assistant (Translator/Interpreter) also supports communications-related administrative functions as needed (i.e., meeting agendas, trackers, branded product inventory, etc.).
- The Communications Assistant (Translator/Interpreter) will backstop the DOC unit and, when necessary, plan, schedule, and carry out activities to present Mission programs to the public, coordinate field travel and public affairs activities, and ensure all needed information (scene setters, talking points, etc.) are prepared.
12. PHYSICAL DEMANDS
The work requested does not involve undue physical demands.
II. MINIMUM QUALIFICATIONS REQUIRED FOR THIS POSITION
a. Education:
Completion of a college/university studies in Linguistics, English, or closely related field is required. The education, or additional training, must have included certification as a licensed or certified Translator/Interpreter is required.
b. Prior Work Experience:
A minimum of two years of progressively responsible experience translating and/or interpreting, in which English is used as one of the languages, is required. Progressive experience with the production of products for public use, event planning, protocol, and outreach content/materials is required.
c. Language Proficiency:
Level IV (professional Translator) English ability (written and oral English communication skills) and Level IV (fluent) in Armenian and Russian, is required.
Only offerors clearly meeting the above minimum qualifications will be considered for further evaluation.
Foreign Service National Security Certification and medical clearance: The ability to obtain the required foreign national security certification and medical clearances for the position is considered a minimum qualification. See section V below.
III. EVALUATION AND SELECTION FACTORS
The Government may award a contract without discussions with offerors in accordance with FAR 52.215-1. The CO reserves the right at any point in the evaluation process to establish a competitive range of offerors with whom negotiations will be conducted pursuant to FAR 15.306(c). In accordance with FAR 52.215-1, if the CO determines that the number of offers that would otherwise be in the competitive range exceeds the number at which an efficient competition can be conducted, the CO may limit the number of offerors in the competitive range to the greatest number that will permit an efficient competition among the most highly rated offers. The FAR provisions referenced above are available at https://www.acquisition.gov/browse/index/far.
The applicants meeting the minimum qualifications will be further evaluated through the applicant's submitted application packages and the combination of interviews, English-writing testing per the Technical Evaluation Committee discretion per the selection criteria provided below. The interview will be one of the determining factors in the final Selection.
Candidates will be evaluated and ranked based on the following selection criteria to a maximum score of 100 points:
1) Prior Work Experience (30 points):
Demonstrated progressively responsible work experience in translating/interpreting, experience of working with international organizations, experience translating/interpreting for the high-level events/visits/meetings, demonstrated skills and hands-on experience in public relations, outreach product/content development/management, administrative functions.
2) Technical Knowledge, Abilities & Skills (40 points):
Working knowledge of technical language in such areas as democracy and governance, economic growth and agriculture, natural resource management, humanitarian assistance, human rights, and health and education; familiar with event/meeting interpretation protocol, products, styles, formats, etc; ability to quickly gain a good knowledge of development assistance procedures, programs/projects/activities, terminology used within the development community, as well as formal diplomatic language and protocol. Ability to provide interpretation or translation in a variety of situations; ability to work under pressure and quickly respond to requests for information on very short notice, sometimes requiring close collaboration with colleagues from other offices who already have full workloads. Proficiency and computer skills in Microsoft Office, notably Word and PowerPoint, photo editing, and other relevant software, and Internet search engines; social media skills in targeting specific audiences (e.g. Twitter, Facebook, You Tube, Instagram and others) desired. Additional skills and abilities will be desired.
3) Language (30 points):
Level IV (professional Translator) English ability (written and oral English communication skills) and Level IV (fluent) in Armenian and Russian. The incumbent must be able to produce, edit, summarize both full length and summary English, Armenian and Russian text in a professional and timely manner.
TOTAL: 100 points
Reference Verification (Pass/Fail)
Reference checks may be conducted with individuals not provided by the applicant and without prior notification to the applicant. Any applicant not receiving satisfactory reference checks will no longer be considered for the position. Negotiations will be conducted with the most qualified/ highest-ranked applicant at the conclusion of evaluations. USAID reserves the right to interview only the highest ranked applicant(s) in person or by phone.
IV. SUBMITTING AN OFFER
1. Eligible Offerors are required to complete and submit a resume, an application form DS-174 in English and a copy of certification as a licensed or certified Translator/Interpreter. DS-174 in English is available on the following link: https://eforms.state.gov/Forms/ds174.PDF
2. Additionally, applicants must provide a writing sample of approximately 750-1,000 words (2 pages), expressing how the Offeror's qualifications meet the evaluation and selection factors per paragraph III. The applicants who do not submit any of the required documents as mentioned above will be disqualified.
3. Offers must be received by the closing date and time specified in Section I, item 3, and submitted to the Point of Contact in Section I, item 4: [email protected]
4. Offeror submissions must clearly reference the Solicitation number on all offeror submitted documents.
V. LIST OF REQUIRED FORMS FOR PSC HIRES
Once the Contracting Officer (CO) informs the successful Offeror about being selected for a contract award, the CO will provide the successful Offeror instructions about how to complete and submit the forms required to obtain medical and security clearances.
ԾԱՌԱՅՈՒԹՅՈՒՆ ՄԱՏՈՒՑՈՂ ՀԿ-ՆԵՐ
Տեսնել
Allowed file types: .pdf, .doc, .docx, .xsl, .xsls, .jpg
No file choosen