Փոքր թիմերով մեծ գործեր
Հրապարակված է` 23 հունիսի, 2021
Բանակցության և առաջդնորդության դասընթաց (անգլերեն)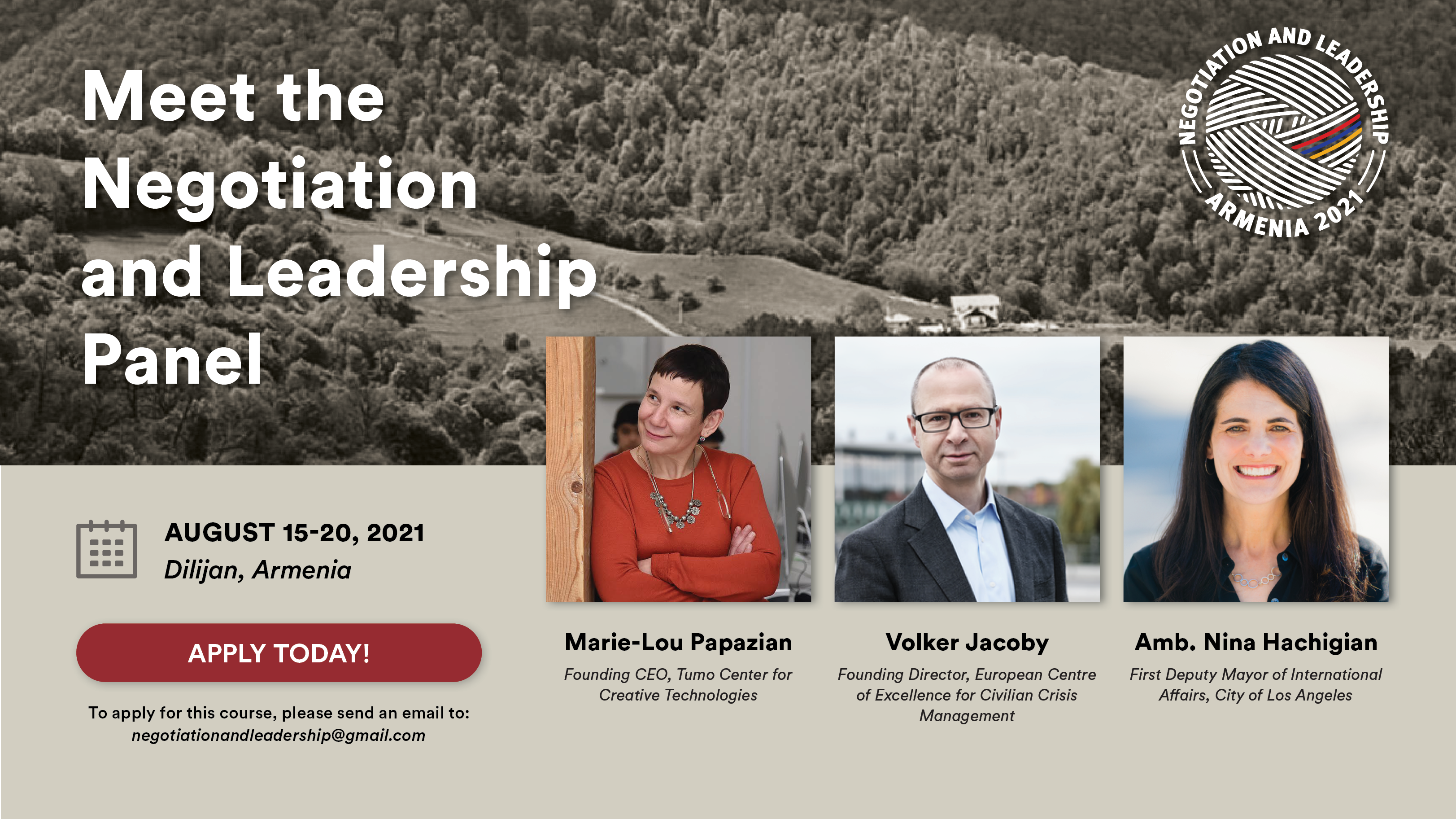 During this 5-day program, participants will have the opportunity to learn new negotiation and leadership skills, engage with experts in conflict resolution, and expand their professional network. The program will explore both theory and practice, and equip participants with new tools to better resolve conflicts in their professional lives. The objective is to empower participants to communicate effectively and resolve disputes across a variety of contexts. Professionals from all fields are encouraged to apply. The program will be held from August 15-20th at the TUMO Center in Dilijan. Applications are reviewed on a rolling basis and space is limited to 32 participants.
Several organizations have greeted the Negotiation and Leadership Course with great enthusiasm, including: TUMO Center for Creative Technologies (TUMO), Armenian General Benevolent Union (AGBU), National Association for Armenian Studies and Research (NAASR), Armenian International Women's Association (AIWA), Tufenkian Foundation, and the International Center for Agribusiness Research and Education (ICARE).
Learning Objectives:
During this five-day intensive course, you will:
Gain an overview of conflict resolution processes and an in-depth understanding of the building blocks of successful negotions and leadership
Acquire practical skills and techniques to more effectively settle differences and resolve disputes across a variety of contexts
Explore the emotional dynamics of the conflict, cognitive biases, challenges and dilemmas, and how to best deal with them
Sharpen your skills by applying new tools and strategies in several negotiation and mediation simulations and receive real-time feedback from expert practitioners
Engage with international experts in a fireside chat regarding their leadership and negotiation experiences
Learn from and exchange with peers from various professions all across Armenia and Artsakh
Who should attend:
Professionals with keen interest or some prior conflict resolution experience, who can prractically apply their new skills in their professional work or community engagement. Fluency in English is required.
Information at a Glance:
Course date: August 15-21, 2021
Location: Dilijan, Armenia
Tuition Fee*: 260.000 AMD
(*The course fee includes tuition, curricular materials, refreshments, breakfast, lunch, dinner, and reception. The fee also includes accomodations at the Dilijan TUMO Center)
How to apply?
To apply please send your CV and motivation letter via e-mail. Please, elaborate in your motivation letter how this course will contribute to and improve your professional and community-based work and engagement.
A limited numver of scholarships are available for rural applicants, who can demonstrate need and merit.
For further inquiries, you can write us directly or contact the Training Team at [email protected]
ԾԱՌԱՅՈՒԹՅՈՒՆ ՄԱՏՈՒՑՈՂ ՀԿ-ՆԵՐ
Տեսնել
Allowed file types: .pdf, .doc, .docx, .xsl, .xsls, .jpg
No file choosen