Փոքր թիմերով մեծ գործեր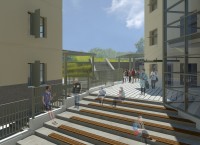 ՀԱՀ-ը ԱՄՆ ՄԶԳ/ԱԱԴՀ-ից ստացավ 650 հազար ԱՄՆ դոլար Ուսխորհրդի և դասախոսական կենտրոնի նոր մասնաշենքի կառուցման համար (անգլ.)
11 նոյեմբերի, 2015, 04:24
The American University of Armenia (AUA) is pleased to announce the receipt of a $650,000 grant from the American Schools and Hospitals Abroad (ASHA) program of the U.S. Agency for International Development (USAID) to construct, furnish, and equip a Student Union, a Faculty Center, and an Open Amphitheater at AUA. The new facilities will be built on recently purchased lands adjacent to the Paramaz Avedisian Building (PAB) and will maintain the minimalistic contemporary architectural style of the original PAB design, so that they are harmonious with the existing composition.
The Student Union will add an important element of American-style education which is currently not represented at AUA: a place for students to congregate, interact, and participate in student clubs. It will also serve as a place for students and faculty of other universities to learn about AUA student life.
With a seating capacity of 150, the space will have desks, chairs, and a coffee corner serving sandwiches and drinks. It will be open 16 hours a day as an informal venue for discussions and relaxation. Two 16-square-meter rooms will provide privacy for group discussions, student club activities, meetings and rehearsals. Wireless access throughout the area and interactive media will enhance the learning and social environment. The lounge space will also include a designated area for The Bridge, AUA's student newspaper, which produces creative and entertaining pieces as well as critical analyses about daily events within AUA and more broadly in Armenian society. Adjacent to the Union, a large chess board will be built on the ground.
Similarly, the Faculty Center will fill an urgent need for faculty to interact with each other, with scholars from other academic institutions, with visitors, as well as government and industry representatives. The Faculty Center will stimulate academic discourse at AUA and cultivate a community of scholars in an informal environment.
As a central meeting place on campus, the Faculty Center will facilitate the creation and maintenance of professional networks. As an attractive and comfortable venue with a 60-seat capacity, the Center will offer faculty a wide variety of services beyond the traditional coffee break or noontime meal. Its facilities will be available for business meetings, social gatherings, and professional activities. Faculty will enjoy the relaxing ambiance and will make use of the facilities daily as an intimate gathering place for mingling with colleagues, guests and friends.
The Open Amphitheater will provide a welcoming forum for open debates, discussions and performances, again augmenting AUA's capacity to spread American values through more frequent public events. This project will amplify the ability of AUA to disseminate the institution's tenets of transparency, openness, and academic freedom.
Of these upcoming ASHA-funded expansions, AUA President Armen Der Kiureghian said: "We are grateful to ASHA for this generous grant. This grant will allow us to bring two new concepts to Armenia: a Student Union, where our students will gather, interact, study, hold meetings, and play, and a Faculty Center, which will serve to bring our faculty together to collaborate with each other and to host visitors and colleagues from other universities. The Open Amphitheater will provide a forum for debates, presentations, plays, and many other events, all happening in the open air and accessible to the public."
To ensure design continuity with the AUA PAB, this building addition was developed by the Armenia-based NST Architecture Studio (Isahak Nersisyan, Principal) with the close collaboration and oversight of Ronald Altoon, FAIA, LEED AP, now President and CEO of the California-based Altoon Strategic, LLC.
AUA has been receiving support from ASHA for many years, with past projects including the renovation and expansion of the university library, remodeling of the cafeteria, creation of integrated technology classrooms, and replacement of university windows and Main Building elevators. Projects that are currently underway include the Student Services/Student Excellence Center and the Innovation & Technology Incubation Center (ITIC).
ASHA provides assistance to schools, libraries, and medical centers outside the United States that serve as study and demonstration centers for American ideas and practices. ASHA's grants help these institutions train future leaders in a wide variety of disciplines, support local and regional infrastructure to foster development, and cultivate positive relationships and mutual understanding among citizens of the United States and other nations.
Founded in 1991, the American University of Armenia (AUA) is a private, independent university located in Yerevan, Armenia and affiliated with the University of California. AUA provides a global education in Armenia and the region, offering high-quality, graduate and undergraduate studies, encouraging civic engagement, and promoting public service and democratic values.
Original source can be found here.
ԾԱՌԱՅՈՒԹՅՈՒՆ ՄԱՏՈՒՑՈՂ ՀԿ-ՆԵՐ
Տեսնել
Allowed file types: .pdf, .doc, .docx, .xsl, .xsls, .jpg
No file choosen