We are small teams doing BIG things!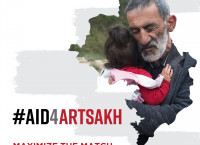 AGBU #Aid4Artsakh Matching Gift program
06 October, 2020, 11:51
Source: https://mail.google.com/mail/u/0/#inbox/FMfcgxwJZJbrwjnsbSXDQFWMtzfMkpdK
Announcing the AGBU #Aid4Artsakh Matching Gift program.
AGBU will match dollar for dollar* all funds up to $5 million raised through November 15th for Hayastan All Armenian Fund. All donations will be designated for humanitarian and medical assistance in Artsakh and Armenia.

How to support:
Donate via AGBU today to designate double funds to Himnadram (All Armenian Fund)
Spread the word about this campaign
Go to AGBU social media pages and share posts about the current war with friends and colleagues
Contact your local press, popular influencers and government bodies and inform them of what's happening.
*For individual gifts of up to $100,000 per donor.
Allowed file types: .pdf, .doc, .docx, .xsl, .xsls, .jpg
No file choosen