We are small teams doing BIG things!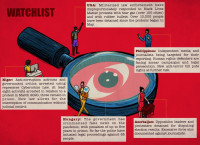 CIVICUS MONITOR WATCH LIST UPDATED-29 JUNE 2020
01 July, 2020, 11:43
Latest Update: 29 June 2020 - The new CIVICUS Monitor Watch List highlights serious concerns regarding the exercise of civic freedoms in Philippines, Azerbaijan, Hungary, Niger and the United States of America. The Watch List draws attention to countries where there is a serious, and rapid decline in respect for civic space, based on an assessment by CIVICUS Monitor research findings, our Research partners and consultations with activists on the ground.
In the coming weeks and months, the CIVICUS Monitor will closely track developments in each of these countries as part of efforts to ensure greater pressure is brought to bear on governments. CIVICUS calls upon these governments to do everything in their power to immediately end the ongoing crackdowns and ensure that perpetrators are held to account.
Descriptions of the civic space violations happening in each country are provided below. If you have information to share on civic space in any of these countries, please write to [email protected].
More information can be found here.
Allowed file types: .pdf, .doc, .docx, .xsl, .xsls, .jpg
No file choosen