We are small teams doing BIG things!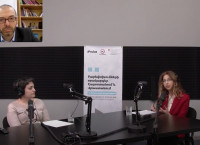 EPF Project Manager Tatevik Gharibyan Speaks about Prospects of Public Policy Improvement
20 October, 2022, 12:31
This interview has first been published on Boon TV's Youtube Channel. Available here!
EPF Project manager Tatevik Gharibyan, together with David Jandieri, the Head of Rule of Law Department of The Georgian Strategic Analysis Center (GSAC) talk about the prospects of public policy improvements and other judiciary-related issues in Armenia and Georgia.
The full interview is available below.
Allowed file types: .pdf, .doc, .docx, .xsl, .xsls, .jpg
No file choosen