We are small teams doing BIG things!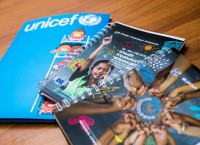 EU-UNICEF child rights toolkit launched in Armenia
24 February, 2016, 01:26
'We are launching today the joint EU-UNICEF child rights toolkit as a testimony that the issue of rights of children are very important for the EU here in Armenia', - said the Head of the EU Delegation to Armenia, Ambassador Piotr Switalski. Ambassador when he with three ministers of the Government of Armenia launched the EU-UNICEF toolkit in Armenia on 22 February 2016.
Source՝ https://www.facebook.com/media/set/?set=a.972644752789454.1073742128.302970569756879&type=3
Allowed file types: .pdf, .doc, .docx, .xsl, .xsls, .jpg
No file choosen