We are small teams doing BIG things!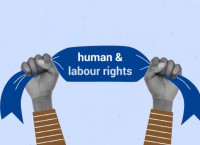 GSP+: Working with civil society to promote human and labour rights
21 February, 2020, 11:50
In this video, we take you around the globe, stopping by nine countries to hear more about what DRI and its partners are doing to help promote human and labour rights, why it's important and what impact it has all had so far! Find out how we work to support civil society and social partners to become effective advocates and drivers of change. This change is ultimately intended to be that the beneficiary countries of the European Union's Generalized Scheme of Preferences Plus (GSP+) meet their commitments to effectively implement core international human and labour rights conventions, in exchange for the removal of tariffs on a range of products exported to the EU. This work is part of the EU-funded programme 'Promoting Human and Labour Rights through GSP+'.
Allowed file types: .pdf, .doc, .docx, .xsl, .xsls, .jpg
No file choosen