We are small teams doing BIG things!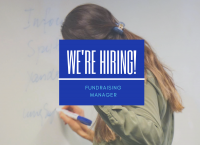 Job Announcement: Fundraising Manager
21 January, 2021, 13:35
POSITION DESCRIPTION
Basic Details
Job Title: Fundraising Manager
Location: Yerevan, Azatutyan 1/21 – 23
Department: Programs
Reports to: CEO or Program Director
Last updated: 20.01.2021
Position term: Full time, 40 hours per week
Job specification/Overview
EPF is looking for an exceptionally talented person who will join the team and help EPF in its resource acquisition strategy implementation. We need either a seasoned fundraiser or a young person with exceptional qualities and ready to learn. The ideal candidate is expected to have excellent English and Armenian writing skills, research and database development and management skills, and experience in writing proposals. Russian is a plus. Remuneration is commensurate with experience. The term is originally for one year, with a possibility of renewal, depending on performance. There is one-month probation period, fully paid. Please look through the detailed requirements and apply by February 15th, 2021.
Key Tasks:
Study the donors, build a timetable of the regular fundraising opportunity appearances, notify programs on time;
Build, develop and maintain the fundraising database;
Research potential partners for multi-partner proposals in Armenia and other countries, develop and maintain a database of such possible partnerships;
Write drafts of concepts and proposals, as decided by the team, and/or edit them and do other proposal-preparation tasks within the team tasked with application;
Experience of developing budgets is a plus;
Look for additional, untapped fundraising opportunities;
Analyze major donors', foreign governments' and international organizations' strategies in relation to Armenia and make predictions and recommendations about potential relevant policy areas which can become a basis for funding strategies;
Cultivate donor relations through participating in meetings, events and organizing information sessions;
Ideally, be able to have policy positions to engage in discussions with potential and actual donors and influence their policy thinking. A person who has publications record re policy issues is a plus.
Contribute to development and implementation of communication strategy that targets donors;
Review and collate EPF's organizational memory, in coordination with the team, which can contribute to new areas of activities and/or respond to upcoming donor priorities;
Organize and lead temporary 'fundraising teams': effectively distribute duties among team members taking into consideration the size of the team, background of team members and their current workload (who does what and when, e.g. who develops the draft budget, logframe, etc.), develop a realistic action plan for the fundraising team, organize and lead fundraising team's meetings;
Follow-up with the due and timely accomplishment and submission of the proposal as a leader of the team, store the proposals and all communication with the donors and potential donors in the database;
Regularly update and follow up on EPF's donor subscription systems.
Qualifications:
Experience with developing complex proposals and concept papers (desired);
Experience in networking with donors, understanding of fundraising and willingness to develop that role (desired);
Excellent knowledge of some of the policy aspects relevant for Armenia and the region;
Good logical capacities (knowledge of log frames is a plus);
Good budgeting capacities (Excel);
Demonstrable experience in writing proposals in English;
Capacity to write fast, accurate, and succinctly (desirable);
Capacity to edit/proofread English texts (desirable);
Capacity to fit donors' language/format requirements;
Capacity to write proposals in compliance with professional styles and proposal guidelines;
Capacity to multi-author, i.e. use inputs from different people to collect and develop one united document;
Capacity to work in newly built teams with not well-known colleagues/partners;
Capacity to work with long-distance teams in other countries via on-line means while building proposals;
Capacity to paraphrase, as needed, instead of cut and paste; capacity to update dated texts as needed;
Readiness and capacity to work sometimes at non-working hours, within tough deadlines with the teams;
Capacity to easily comprehend the subject area of the proposal; without being an expert in the designated area, being able to collect all relevant information (e.g. via interviews, desk research, consultations with experts, team members etc.) and draft a proposal within a limited timeframe;
Multimedia and computer design skills are a plus
Additional competences and skills:
Knowledge of international and foreign government funding instruments, policies and strategies for Armenia, such as European Union, United Kingdom, Finland, Norway, Denmark, USAID, UNDEF, etc.
Ability to effectively review requests for proposals, documents, and other background material relevant to the designated proposal․
Ability to manage the proposal development process, including preparing and implementing a work plan

Listing the tasks required to create the proposal, such as design, writing, editing, review and submission, with due dates assigned for every action
Preparing a list of questions for the team and a list of information or material they need to help create the proposal
Ensuring each section is written in a consistent format and completed according to the RFP instructions and Donor guidelines
Ability to arrange strategy meetings with the team to update the team on how the proposal is progressing on a regular basis; follow-up with team members to get feedback and revisions and ensure that the proposal development stays on schedule

Ability to create and properly design a proposal template, which includes assembling the final texts, graphics, exhibits and supporting documents into a complete and attractive package
Ability to keep reasonable confidentiality in cases of competitive funding and follow other ethical rules as prescribed by the norms of organizational culture
Ability to maintain good working relationships with all co-workers and the general public;
Ability to effectively establish credibility and articulate ideas to obtain support and buy-in of stakeholders for new ideas;
Patience and flexibility in the face of pressure and conflicting priorities;
Willingness to enhance knowledge through training and personal initiative;
A flexible attitude which demonstrates both commitment to team-working and also to working unsupervised when required.
Outstanding analytical skills and ability to propose practical solutions to problems as they arise;
Ability to work with different stakeholders, including government, International Organizations and local NGOs;
Please note that the Fundraiser may be requested to work under a flexible schedule, work irregular hours, and meet short deadlines. The time in lieu will be allocated.
Education and knowledge
Higher education, preferable with a degree in Law or Social sciences any other relevant field;
Years of professional experience, preferably in NGO/International Organizations, in Project design, fundraising, and other relevant areas;
Demonstrated understanding of political, socio-economic policies of Armenia, reforms, civil society and other country developments of Armenia;
Fluency in English, Armenian and Russian. Knowledge of an additional European language is also an advantage.
How to apply
If you feel you are up to the task in supporting the sustainability of Armenian CSOs, and if you have some or all of the above-mentioned competencies and skills, please submit the following documents:
(1) CV which emphasizes experiences in the above areas;
(2) A writing sample (an excerpt from a successfully funded proposal is the best. Confidentiality will be ensured).
(3) A Publication (if any).
Please send the information [email protected], with "Fundraiser" in the subject line.
Please note that only the shortlisted applicants will be contacted for interview.
The deadline is February 15, 2021.
Allowed file types: .pdf, .doc, .docx, .xsl, .xsls, .jpg
No file choosen