We are small teams doing BIG things!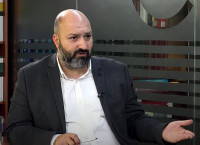 Mikayel Hovhannisyan Speaks about Reforms in Yerevan State University (in Armenian)
18 October, 2022, 12:10
This interview has first been published on Civilnet's Youtube channel. Available here!
YSU vice-rector for development and innovation, Mikayel Hovhannisyan, who has previosly been a Project Manager at Eurasia Partnership Foundation, speaks about current reforms happening in Yerevan State University. In the interview below he also presents the prospects of the university's further development.
Allowed file types: .pdf, .doc, .docx, .xsl, .xsls, .jpg
No file choosen