We are small teams doing BIG things!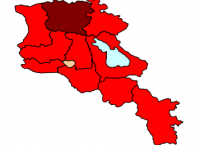 "Mining in Armenia: A Comprehensive Overview" report published
23 October, 2015, 03:19
The American University of Armenia Center for Responsible Mining (AUA CRM) in partnership with Caucasus Environmental NGO Network (CENN) completed a report titled "Mining in Armenia: A Comprehensive Overview," in the scope of the project - Promoting Environmental and Social Accountability in the Mining Sector in the Caucasus.
The report, available in both English and Armenian, is a compilation of works written by independent experts of the mining sector in Armenia, which gives the reader a baseline understanding of the country's mining industry. It aims to provide a broad view of the mining sector, based on review of literature, statistics and data, taking into account global best practices on socially and environmentally sustainable mining. The report addresses the country's mining policy, as well as the legal and institutional framework which regulates and governs the sector. Also addressed are the mining industry's impacts on the then natural environment, public health and cultural heritage. The report also deals with the economic and social impacts of the mining in Armenia, specifically Lori region, which has a substantial mining presence.
Finally, the report includes two important studies conducted by the American University of Armenia School of Public Health (AUA SPH) dealing with human health issues in Lori region, namely the heavy metal contamination of soil in Akhtala community from nearby mines and an ore processing facility and the possible effect on women's reproductive health in Alaverdi from a copper smelting facility that is located in that city.
The online version of the report in English and Armenian is available on the following link:
http://w3.cenn.org/wssl/uploads/documents/Mining_in_Armenia_A_Comprehensive_Overview_Arm.pdf http://w3.cenn.org/wssl/uploads/documents/Mining_in_Armenia_A_Comprehensive_Overview_Eng.pdf
The report was prepared with financial support from Brot für die Welt (Bread for the World)
Allowed file types: .pdf, .doc, .docx, .xsl, .xsls, .jpg
No file choosen