We are small teams doing BIG things!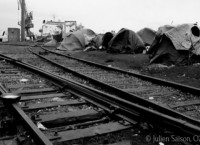 The Odysseus Network Blog launched
13 October, 2015, 10:57
The Odysseus Network Blog launched.
The blog, entitled EU Immigration and Asylum Law and Policy, aims to provide up-to-date analysis of recent legal and policy developments in the field of Migration and Asylum within the European Union.
Through a predominantly legal analysis of legislation and jurisprudence, as well as political developments and institutional considerations, this blog aims to enhance and deepen the debate on EU immigration and asylum. Following current developments, articles will target key refugee and immigration issues such as the Common European Asylum System, visa policy, border controls and free movement in Europe, legal migration, migrants' fundamental rights, irregular migration, and the practice of EU Member States in migration and asylum matters.
The articles published will be written by academics and researchers active in EU migration and asylum law from all across Europe, providing different and local perspectives.
You can also subscribe to the blog to receive email updates when new articles are published.
Allowed file types: .pdf, .doc, .docx, .xsl, .xsls, .jpg
No file choosen