We are small teams doing BIG things!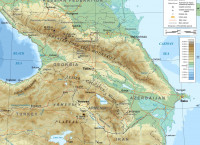 Statement on the escalation over Nagorny Karabakh
30 September, 2020, 13:40
The source can be found here. (The Russian text is below)
As people actively engaged in promoting peace in the South Caucasus, we are extremely alarmed about the escalation of hostilities around Nagorny Karabakh and the resulting deaths of peaceful civilians. We speak out in support of our Armenian and Azerbaijani friends and colleagues, and to all those who, understanding the catastrophe of war for ordinary people, have persistently sought ways to further peace in the most difficult circumstances and unfavourable political and geopolitical conditions. We are deeply concerned that without an immediate end to hostilities, there is a risk of further destabilisation throughout the Caucasus and of a new humanitarian crisis.
It is regretful that existing instruments and mechanisms for the regulation of the conflict have been unable to avert this military escalation and that it hasn't proved possible to enforce the ceasefire, let alone conclude a peace agreement. Efforts invested in objective investigations of border incidents and assessments of provocative acts have proved insufficient. There has been insufficient deployment of the full range of international tools to encourage the conflicting parties to adopt peaceful solutions.
These bloody conflicts in the Caucasus emerged with the collapse of the Soviet empire nearly 30 years ago, but today we are living in different times. The inertia of this violence must not be allowed to be passed on to the next generations along with the hatred, destruction and war. Today, the interdependence of people from different countries is increasingly felt, whether in terms of energy, clean water, climate change or pandemics. All the more dangerous and unacceptable then is the crude clarification of relations between conflicting parties through the use of force. New times require new approaches - maybe not so quick and simple, but more peaceful, humane and long-term.
Understanding the complexity and danger of the current situation, we still hope that people of goodwill will prevail over the inertia of war and find a way to a just and sustainable peace.
We call on all parties, including the international community, to take decisive measures to end hostilities and to begin a new phase of the peace process.
Agrba Indira
Akaba Natella
Alborova Dina
Allen Susan
Aptarashvili Ketevan
Akhvlediani Margarita
Bagatelia Azamat
Barchan Inna
Bendianishvili Zurab
Benia Laura
Boden Dieter
Broers Laurence
de Waal Tom
Foreman Anthony
Gabaeva Zalina
Garb Paula
Garzkiya Madina
Gegeshidze Archil
Gezerdava Said
German Rosita
Ginosyan Narine
Gumba Tsiza
Gurgulia Manana
Darbinian Rafael
Javakhishvili Jana
Jenkins Richard
Jenkins Maurizia
Jinjolia Maktina
Jishkariani David
Dziapshipa Anna
Zakareishvili Paata
Inal-Ipa Arda
Kakachia Medea
Kanashvili Giorgi
Kartozia Naala
Kvarchelia Liana
Kelekhsaeva Irina
Kerselyan Diana
Clogg Rachel
Kobakhia Batal
Kobakhia Elena
Kozaeva Lira
Cohen Jonathan
Kuvichko Elena
Kulumbegova Lina
Ladaria Aida
Lomiya Asida
Marshania Rusiko
Meister Stefan
Mirziashvili Mikhail
Nadiradze Natia
Nagai Marina
Nanuashvili Ucha
Oliphant Craig
Pagava Marina
Parastaeva Lana
Pataraya Angela
Pertanava Lali
Pipia David
Pochkhua Marina
Pugsley Sophia
Schofield Juliet
Sovakar Mira
Sotieva Larissa
Tabueva Nelly
Tania Astamur
Topchian Marietta
Tugushi Lasha
Turava Elona
Turtseva Bella
Tkhagushev Alkhaz
Kaufmann Valter
Kharashvili Yulia
Khashig Inal
Khvadagiani Irakli
Tsindeliani Merab
Tsikhistavi-Khutsishvili Nina
Tskua Tsiala
Tskhovrebov Alan
Venediktova Nadezhda
Chankvetadze Natia
Chemia Maya
Chkadua Ibrahim
Shvelidze Shota
Shirokova Maya
Elbakidze Marina
Yanovskaya Irina
---
Сегодня, когда в зоне Карабахского конфликта вновь идут ожесточенные бои, мы, участники мирных инициатив на Южном Кавказе, хотим выразить поддержку нашим армянским и азербайджанским друзьям и коллегам, всем, кто в сложнейших обстоятельствах и в неблагоприятном политическом и геополитическом контексте упорно продолжают искать пути к миру, понимая, какой катастрофой оборачивается война для простых людей. Мы крайне обеспокоены нарастанием масштаба военных действий, повлекших за собой гибель мирного населения. Мы озабочены тем, что, если немедленно не остановить военные действия, это приведет к разрастанию зоны нестабильности на всем Кавказе и к очередному гуманитарному кризису.
Приходится констатировать, что существующие инструменты и механизмы урегулирования Карабахского конфликта не смогли предотвратить военную эскалацию. Не удалось обеспечить соблюдение режима прекращения огня, не говоря уже о заключении перемирия. К сожалению, не было приложено достаточных усилий к объективному расследованию приграничных инцидентов, не были даны четкие оценки провокационным решениям, не использовался в необходимом объеме международный арсенал средств для стимулирования конфликтующих сторон к принятию мирных решений.
Почти 30 лет назад разрушилась советская империя, породив кровавые конфликты на Кавказе. Но сегодня иное время. Нельзя допускать, чтобы инерция насилия передавалась новым поколениям вместе с ненавистью, разрушением и войной. Сегодня все более явно ощущается взаимозависимость людей из разных стран, касается ли это недостатка электроэнергии, чистой воды, изменения климата или пандемии. Тем более опасным и неприемлемым становится грубое силовое выяснение отношений между конфликтующими сторонами. Новое время требует новых подходов – может быть не таких быстрых и простых, но более мирных, гуманных и долгосрочных.
Понимая всю сложность и опасность сложившейся ситуации, мы все же надеемся на то, что люди доброй воли смогут одержать верх над инерцией войны и найдут путь к справедливому и устойчивому миру.
Мы призываем все стороны, в том числе, мировое сообщество принять решительные меры для того, чтобы боевые действия были прекращены и начался новый этап переговорного процесса.

Агрба Индира
Акаба Нателла
Алборова Дина
Аллен Сьюзен
Аптарашвили Кетеван
Ахвледиани Маргарита
Багателия Азамат
Барчан Инна
Бенделиани Елико
Бендианишвили Зураб
Бения Лаура
Боден Дитер
Броерс Лоуренс
де Ваал Том
Венедиктова Надежда
Габаева Залина
Гарб Пола
Гарцкия Мадина
Гегешидзе Арчил
Гезердава Саид
Герман Розита
Гиносян Наринэ
Гумба Циза
Гумба Юлия
Гогорян Анаид
Гургулия Манана
Дарбинян Рафаэль
Девидзе Лали
Джавахишвили Джана
Дженкинс Ричард
Дженкинс Мауриция
Джинджолия Мактина
Джишкариани Давид
Дзиапшипа Анна
ЗакареишвилиПаата
Инал-Ипа Арда
Какачия Медея
Каландаришвили Нино
Канашвили Гиорги
Картозия Наала
Кауфман Вальтер
Кварчелиа Лиана
Келехсаева Ирина
Керселян Диана
Клогг Рэйчел
Кобахия Батал
Кобахия Елена
Козаева Лира
Коэн Джонатан
Кувичко Елена
Кулумбегова Лина
Ладария Аида
Ломия Асида
Майстер Стефан
Маршаниа Русико
Месхишвили Цира
Мирзиашвили Михаил
Нагай Марина
Надирадзе Натия
Нануашвили Уча
Олифант Крейг
Пагава Марина
Пагсли София
Парастаева Лана
Патарая Анжела
Пертанава Лали
Пипиа Давид
Пирцхалава Эка
Почхуа Марина
Скофилд Джулиет
Совакар Мира
Сотиева Лариса
Табуева Нелли
Тания Астамур
Топчьян Мариетта
Тугуши Лаша
Турава Элона
Турцева Белла
Тхагушев Алхас
Форман Энтони
Харашвили Юлия
Хашиг Инал
Хвадагиани Иракли
Цинделиани Мераб
Цихистави-Хуцишвили Нина
Цкуа Циала
Цховребов Алан
Чанкветадзе Натия
Чемия Майя
Чкадуа Ибрагим
Швелидзе Шота
Широкова Майя
Элбакидзе Марина
Яновская Ирина
The source of the picture can be found here.
Allowed file types: .pdf, .doc, .docx, .xsl, .xsls, .jpg
No file choosen