We are small teams doing BIG things!
Published on: 04 October, 2023
Job Opportunity from Heinrich Böll Stiftung Yerevan: Environmental Program Coordinator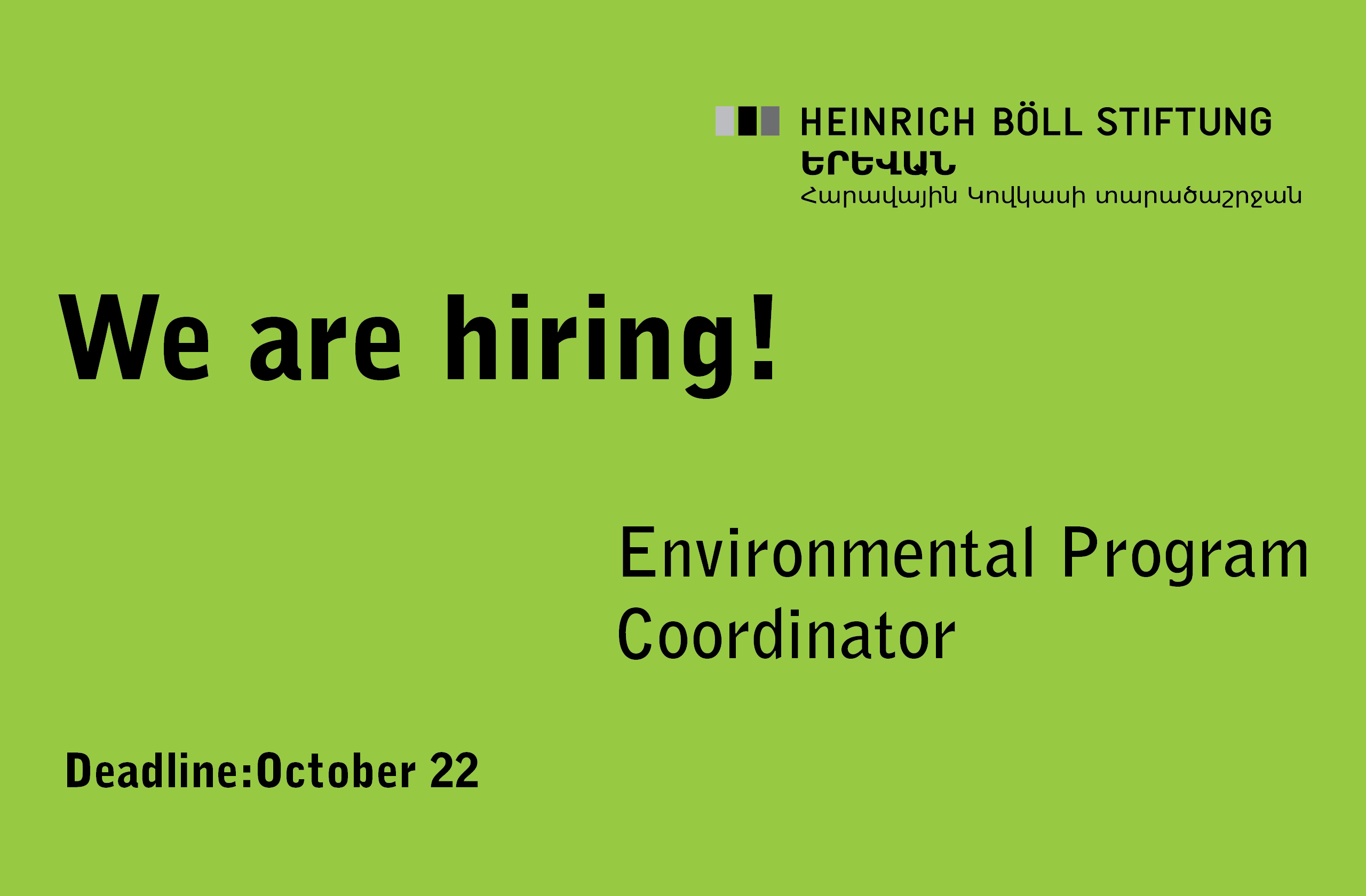 Vacancy: Environmental Program Coordinator
Heinrich Böll Stiftung Yerevan Office - South Caucasus Region
About us:
The Heinrich Böll Stiftung (hbs), affiliated with the German Green Party, is a legally independent political foundation. Headquartered in Berlin, we have more than 30 offices around the world. The hbs South Caucasus regional office was opened in Tbilisi in 2003, its Yerevan branch office in 2017, and is funded by the German Ministry for Economic Cooperation and Development. The main objectives of hbs South Caucasus are to promote democracy and human rights, gender equality, social and environmental justice, and international dialogue. For more information about hbs and its activities, please visit http://www.ge.boell.org, https://ge.boell.org/en/armenia, https://www.facebook.com/am.boell/, and http://www.boell.de.
About the vacancy:
Within our environmental program, during the next program phase (2024-2026) we will focus on the sustainable use of natural resources, just development, and an effective response to the climate crisis. Our work supports civil society advocacy on the local and national level based on environmental and human rights principles. We collaborate with and provide grants to partners (civil society organizations, activist groups, academic institutions, etc.), but also implement our own activities.
The environmental program coordinator of the hbs Yerevan Office - South Caucasus Region
Conceptualizes, implements, and monitors the environment program and the Green Lab summer school of hbs Yerevan Office in consultation with the Office Director and the environment program coordinator of hbs Tbilisi Office;
Plans, manages and administers Armenia-based projects in the environmental sphere in consultation with colleagues in the Yerevan and Tbilisi office;
Drafts and monitors project budgets, contracts and reports;
Prepares substantive program reports and activity documentation for our office and headquarters;
Cooperates with, provides managerial support to, and supervises partner organizations and contractors;
Conceptualizes and edits publications for our website and contributes to our social media activities;
Monitors and analyzes political and societal developments, especially with regard to environmental issues;
Develops hbs' network in the field of environmental issues in Armenia;
Represents hbs at program-related events;
Travels to Tbilisi and Berlin when required (approximately 4 times per year).
Required qualifications and experience:
Master's degree in the social or natural sciences;
Very good knowledge of environmental and climate issues in Armenia and the sustainable development and social and environmental justice discourses;
Minimum two years of relevant work experience in socio-political, international project or political education work, including in project management and budget planning and control;
Very good writing and editing skills in Armenian and English;
Good understanding of and interest in politics and current affairs in Armenia and the South Caucasus;
Excellent ability to work strategically and in a goal-oriented way;
Excellent time-management, communication and organizational skills;
Excellent gender, diversity, and intercultural competence;
High attention to detail and sense of responsibility;
Very good computer skills, especially MS Office;
Identification with green values – ecology, justice, equality, democracy, peace – and the mission of the Heinrich Böll Stiftung.
Desirable:
Good network in the environmental sector in Armenia;
Knowledge of German;
Demonstrated interest in development cooperation and Armenia's relations with Germany/the EU.
How to apply:
Interested candidates should send their (1) motivation letter, (2) CV and (3) a recommendation letter/employer's reference to [email protected] no later than October 22. Belated or incomplete applications will not be considered. Please indicate "Environmental program coordinator" in the subject line.
Applications must be submitted in English.
Only short-listed candidates will be contacted. Candidates will be selected on the basis of a written test on November 1 and, if successful, an interview on November 20 (both will take place in person in Yerevan).
Commencement of work: January 15, 2024
Allowed file types: .pdf, .doc, .docx, .xsl, .xsls, .jpg
No file choosen