We are small teams doing BIG things!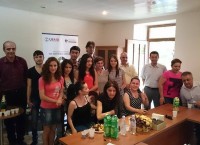 Civil Youth Centers Launched in Ashtarak and Artashat
28 June, 2015, 14:00
Within the framework of the "Engaged Citizenry for Responsible Governance" project jointly implemented by USAID and Transparency International Anti-Corruption center, two civil youth center offices were opened in Ashtarak and Artashat on June 27. Representatives of the local civil society, municipal and marz authorities and partner organizations were invited to these events.
During the upcoming 4, 5 years, the centers will be performing the following functions:
Unite the local youth around the idea and activities to protect public interests.
Special advocacy trainings for the center's stakeholders.
Coordination of participatory monitoring of health and educational institutions.
Advocacy, initiation and implementation of actions to increase the transparency and accountability of authorities and other institutions that use public resources.
"Asparez" Journalists Club, the centers mentioned above, similar centers that operate in Gyumri, Vanadzor, Armavir and Gavar, as well as the centers that will soon be established in Hrazdan, Ijevan, Yeghegnadzor and Kapan, will be happy to cooperate with public structures and individuals interested in these fields.
The address of Ashtarak civil youth center: Vardges Petrosyan 11, near the building of Armbusinessbank, Phone: 093 851 879
The address of Artashat civil youth center: August 23 street, building 9, near the Vivacell Office, Phone: 095 809 030
Allowed file types: .pdf, .doc, .docx, .xsl, .xsls, .jpg
No file choosen