We are small teams doing BIG things!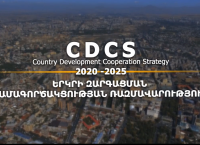 USAID/Armenia Has Published Country Development Cooperation Strategy
25 May, 2021, 10:49
Source: https://www.usaid.gov/hy/armenia/cdcs
Armenia has weathered a tumultuous year. The 2020 Nagorno-Karabakh conflict and subsequent political instability following the November 10 ceasefire, along with widespread rates of COVID-19, have greatly tested Armenia's political, economic, and social sector resilience. Yet despite these twin crises and the rapidly evolving political landscape, Armenia is setting its sights on peace and stability.
The new 2020-2025 Country Development Cooperation Strategy (CDCS) outlines USAID's strategic priorities and approaches in Armenia for the next five years. Although it was developed prior to the conflict in Nagorno-Karabakh and the subsequent ceasefire agreement, the document identifies the key sectors, technical approaches, and policy considerations that will guide USAID's work in helping Armenia rebound from recent crises. As needed, the CDCS will be adapted to new development priorities, should they arise in the coming months and years.
The CDCS incorporates analysis of Armenia's Capacity and Commitment as outlined in the Journey to Self Reliance Roadmap (J2SR) and is closely aligned with Armenia's goals and priorities. USAID will continue to collaborate with a variety of partners, including the Government of Armenia, local governments, civil society, the private sector, and private individuals throughout the country to achieve the development outcomes outlined in the CDCS.
Through this new strategy, USAID reaffirms its commitment to Armenia and the Armenian people as strong, reliable development partners that support the pursuit of democratic stability, economic prosperity, and an engaged citizenry as cornerstones of a peaceful and sovereign nation.
Watch the video to learn more about USAID/Armenia goals and objectives!
Allowed file types: .pdf, .doc, .docx, .xsl, .xsls, .jpg
No file choosen