We are small teams doing BIG things!
Published on: 16 July, 2021
Armenia: Public Policy Research Fellowship Program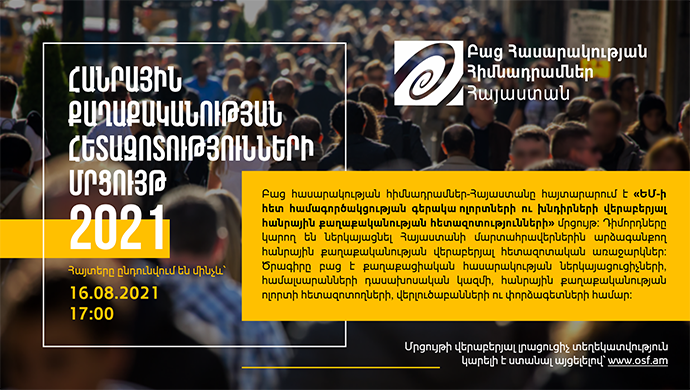 Source: Open Society Foundations-Armenia
The opportunities created in the last three years have not been used to carry out radical reforms. Value of Armenia political, economic, social and social crises reaffirmed existing institutions in various fields Gaps and Management issues. Especially after the 44-day war. The crisis of democratic institutions became public Decreased trust and falsification of democratic values Trends, jeopardizing Armenia's main "EU" main document Effective and reporting implementation.
The imperative of the struggle for the protection of rights has remained unchanged. Now: "Armenian civil society is convinced that between Armenia and the EU. "The implementation of the ASCP should be built solely on these principles. Reasoned and reasoned monitoring and expression of positions should be based on existing areas of cooperation with the EU on research on problems.
Priority Areas
The imperative of Armenia's development includes the following priority areas: reassessment of problems, based on that, reforms New approaches to implementation and suggestions. Those areas and problems include, but are not limited to:
In the context of foreign policy, international monitoring and Legal framework and activities on security assurance effective security, State: institutes Development: and evaluation of functions, interdepartmental communication mechanisms effectiveness evaluation.
checks and balances between state institutions and mechanisms, State: bodies: accountability, other: problems with reforms and their evaluation.
Process Judicial reform process, judicial, Investigative of Prosecution Bodies, Supreme Judicial Council, aimed at the impartial, independent and effective work of judges Ensuring legislative and other necessary mechanisms.
Implementation of the national human rights strategy, border in settlements human basic: rights: defense,in the context of discrimination and fundamental freedoms – social justice, access to justice, fair trial and Protection of human rights in the context of state security problems with mechanisms.
Implementation of the principles of Human Rights and rule of law in the context of the effectiveness of the public health system problems, work and social issues, etc. The efficiency of the activities of the ministries and Other issues such as: Reaction to covid 19 the humanitarian situation after the war.
Access to and access to social justice, quality education; quality assessment and assurance, ethics and institutional autonomy principles: in the context Education: system: efficiency of activities necessary reforms.
Management accountability, transparency and corruption prevention: in the context: anti-corruption reforms, anti-corruption bodies, public procurement system, funds declaration, real owners, illicit enrichment, interests Conflict protection issues.
Information security and technology technologies In the context of influence, disinformation and propaganda mechanisms, Penetration of biased speeches into public spaces, critical development of thinking, false news and information flows, facts Disclosure of inspection methods, etc.
Climate change, renewable energy, environment defense and sustainable development, energy security Issues related to Armenia-EU and Comprehensive and Extended arising from the priorities set out in the Partnership Agreement other issues that deserve priority attention.
Award Information
Researchers will receive individual Grants of up to $ 3,500 (USD) for research costs for the purpose of: The maximum duration of research programs is four months.
Criteria
All applicants will be informed competition results About application to submit from six weeks from the deadline. Applicants who have passed the first stage may be invited for an interview. Interested parties are a must submit research offers

application

, in a nutshell autobiography (CV), how previously carried outresearch samples/s or their links. All documents are required.
Research proposals, CV and samples (or links to) of previously published research are to be sent to [email protected]
Deadline for applications is Aug 16, 2021, 17:00
Please email [email protected] if you have questions.
Allowed file types: .pdf, .doc, .docx, .xsl, .xsls, .jpg
No file choosen