We are small teams doing BIG things!
Published on: 16 June, 2021
Public Talk: The role of civil society in Turkey-Armenia relations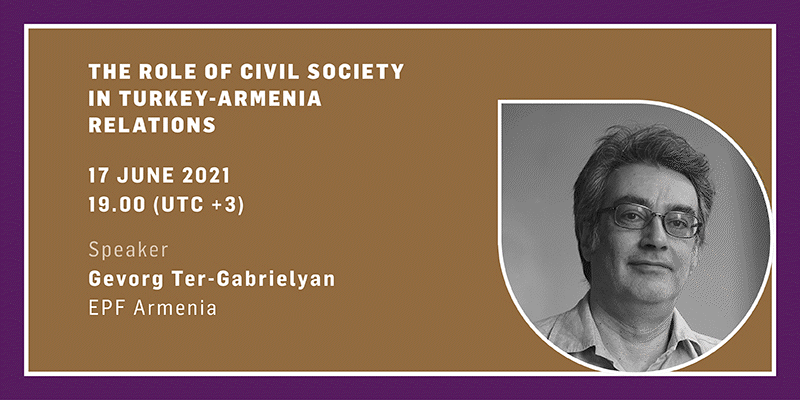 More information can be found at The Hrant Dink Foundation website.
The Hrant Dink Foundation will host a public talk addressing the role of civil society in Turkey-Armenia relations. The speakers will address if and how civil society has helped to change these relations to date, the challenges faced by civil society in both countries and the input that they can provide to improve both political and social normalization. The talk will allow the audience to take a glance at Turkey and Armenia relations at the civil society level with a focus on both past interactions and more recent issues at the grassroots level. The talk will also look at the civic space and the exchange of experiences within this space while at the same time shedding light on recent initiatives between the peoples of two neighbouring countries and possible avenues for future cooperation.
Speakers:
Gevorg Ter-Gabrielyan - Eurasia Partnership Foundation Armenia
Asena Günal - Anadolu Kültür
Levent Korkut - Sivil Toplum Geliştirme Merkezi
Discussant:
Armine Ishkanian - London School of Economics and Political Science
The talk will take place online on Thursday June 17, 2021 at 19:00 (UTC+3).
English, Turkish and Eastern Armenian simultaneous interpretation will be available during the talk.
You may

register

below to become an active participant on Zoom, enabling you to direct questions to the speakers.
Alternatively, you may watch the live broadcast of the talk on the Hrant Dink Foundation's

YouTube

channel.
Allowed file types: .pdf, .doc, .docx, .xsl, .xsls, .jpg
No file choosen