We are small teams doing BIG things!
Published on: 15 June, 2022
Research Grant from Deutsche Welle Akademie: Coverage of Environmental Topics in Armenian Media Sector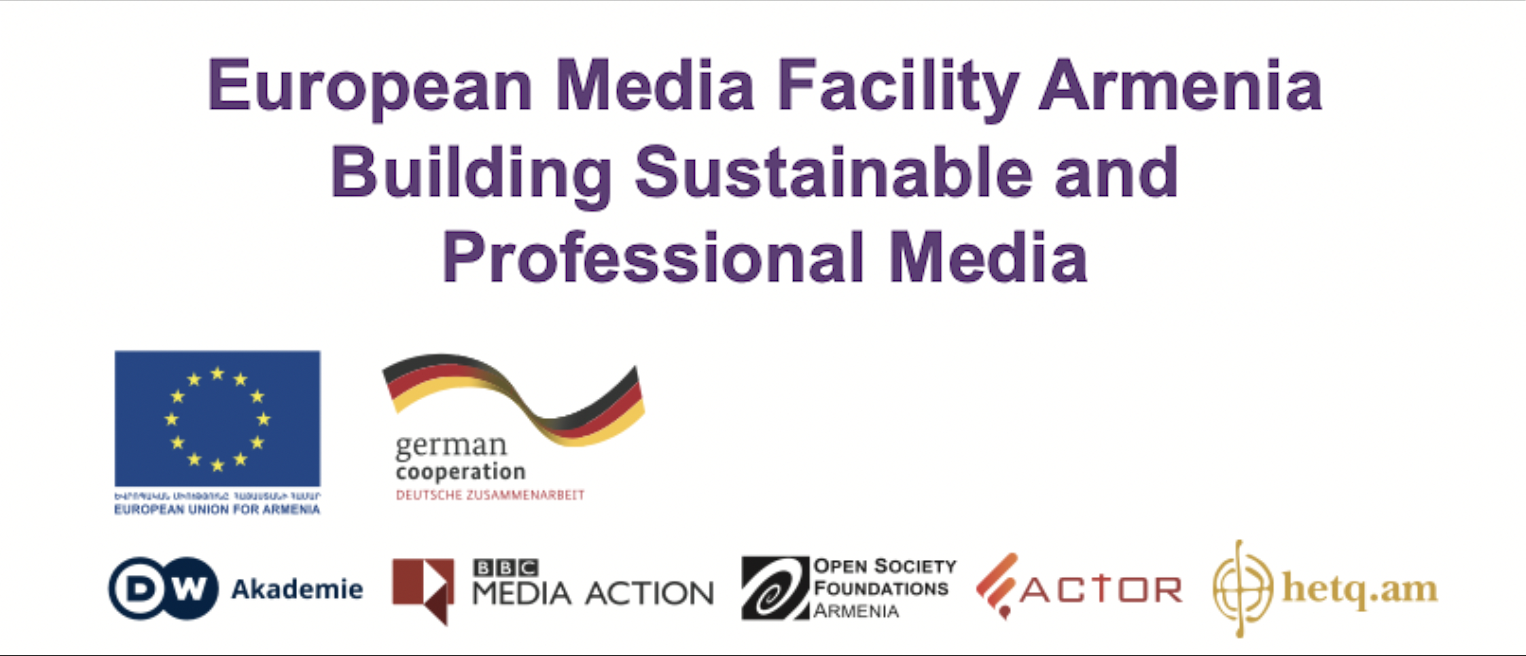 About the Project
The consortium consisting of DW Akademie, BBC MA, OSF- Armenia, Hetq and Factor implement the EU co-funded project "European Media Facility in Armenia – Building Sustainable and Professional Media" funded by the European Union and the Federal Ministry for Economic Cooperation and Development (BMZ). The overall aim of the project is to contribute to a vibrant Armenian media sector that is able to fulfil its role as a watchdog for Armenian society.
For further information on this project, please find updates on our website:
Research Scope
The main aim of the current research is to analyze if and how the environmental topics are covered in Armenian media and if and how the media is a key player in environmental activism.
Background research on Armenian policies in the field of environment, approach, and the media's role in current status of environmental activism,
Research on knowledge and engagement of the media representatives in the environmental activism.
The research shall be the qualitative and quantitative analysis presented in Armenian.
Expected Structure and Deliverables of the Research
Before starting the research the selected organization/individual will have to discuss the detailed research methodology and timeline with the contractor.
Expected Content Structure for Research:
Executive summary including main findings (1–2-page max),
Country specific background on the role of media in environmental activism,
Findings related to the media sector,
Examples of media initiatives on climate change/environmental protection (best practices),
Recommendations to strengthen role and engagement of media in environmental issues/climate change and priority areas for follow-up activities,
Annexes: Questionnaires, interviews conducted with journalists and media representatives.
The research should not be longer than 20 pages (without Annexes) and written in Armenian language (font: sylfaen, size: 11).
Expected Dates of Service
Methodology and timeline by July 15,
First draft by Sep 15,
Final research Oct 1.
Budget and Payments
Offers are evaluated against the price/quality ratio. Service providers are asked to indicate the price into their offer. The price should be a lump sum including travel, per diem, proof reading, peer review and any other costs that might occur during implementation. No extra costs will be renumerated. The total budget must not exceed 2000 EUR.
Payments will be made according to the delivered outputs.
Eligibility Criteria
The service can be offered by individual experts, a group of experts or legal entity. The following criteria shall apply:
Proven experience in similar research services and/or projects, in particular in climate change, environmental protection and media,
Experience in working with international donors and in Armenia,
Proficiency in Armenian (Armenian language skills of at least one expert),
Availability for the expected dates of service,
Submission of offers before the indicated deadline.
Documents to be Submitted for Participation
Applications in Armenian language have to include:
Individual experts/Legal entity: CV(s) of each person involved, company profile
Research outline (max. 1 page) describing the envisaged research approach including methodology, experts/human resources, approximate timeline and budget
Reference projects.
Deadline for Submissions
The deadline for submitting offers is 2nd July 2022.
Offers (pdf, word, excel) should be sent electronically to: [email protected] with a subject line Research proposal.
Allowed file types: .pdf, .doc, .docx, .xsl, .xsls, .jpg
No file choosen