We are small teams doing BIG things!
Published on: 19 May, 2020
Student admission announcement at Hetq Media Factory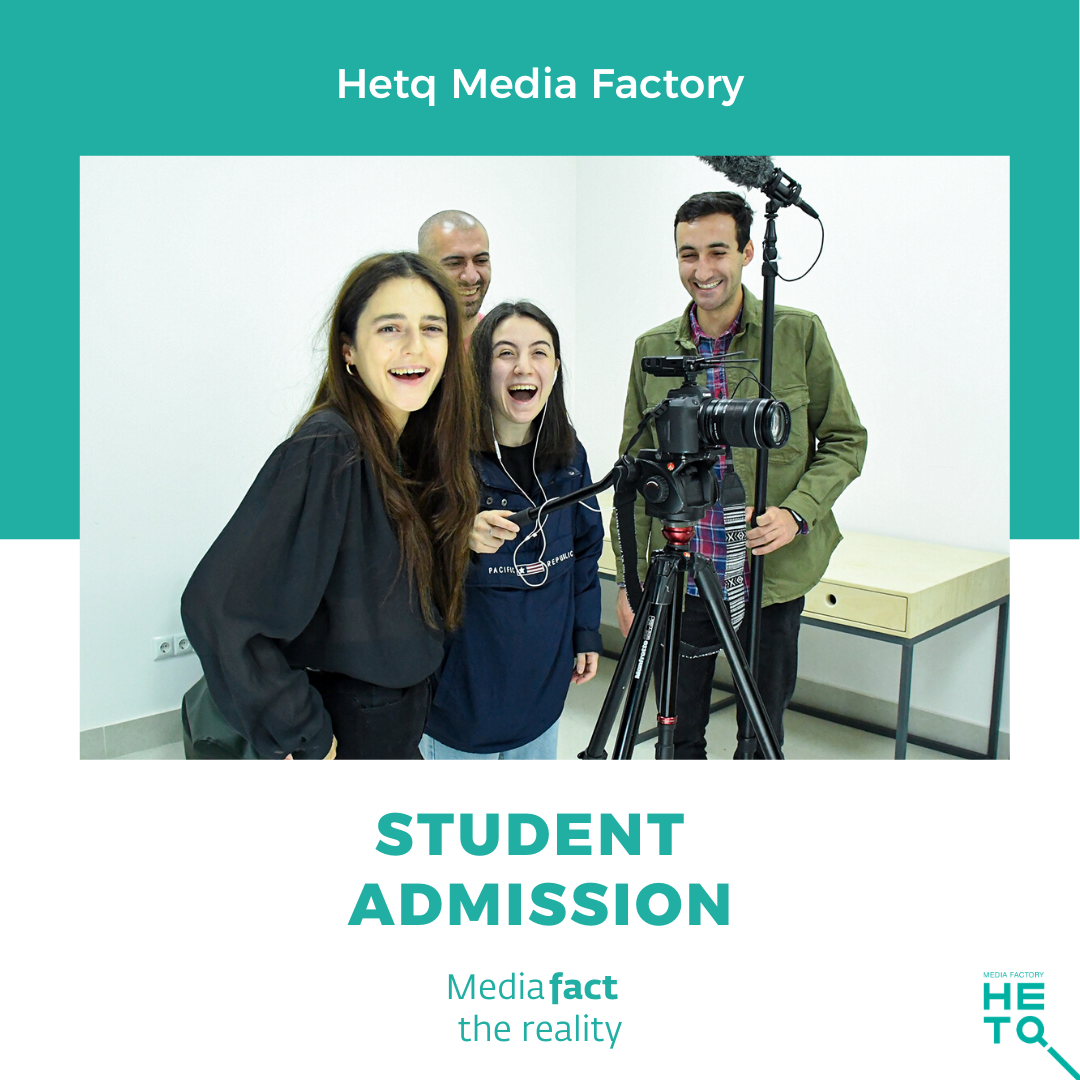 J
ournalism is one of the fastest-changing professions, easily combined with science and technology. If you want to become a competitive specialist in media and related fields, acquire not only theoretical but also practical and applied knowledge, develop and implement unlimited new ideas, become a student at Hetq Media Factory.
All courses of the Hetq Media Factory curriculum are free of charge. Apply online.
30 students a year will have the opportunity to study at the Media Factory. Students will be provided with last generation equipment (camera, laptop, telephone, lights, recording devices, editing software) to ensure the practical application of the study material.
Specialists from not only the media field but also from science and IT will teach at Hetq Media Factory. Instructors will be selected through an open competition consisting of several phases.
The following subjects will be taught at Hetq Media Factory:
Investigative Journalism,
Fact-Checking,
Data Journalism,
Data Visualization,
Photojournalism,
Video journalism,
Mobile Journalism,
Animation,
Ethics and Media Legislation,
English for Journalists.

The courses will last for one academic year (September-December, February-May), every Monday to Thursday, in two shifts, from 10:00 to 14:00 (15 students) and from 13:00 to 17:00 (15 students).
Four subjects will be taught every day, with theoretical and practical parts. On Fridays, there will be office hours when students will meet with instructors to discuss individual assignments and get professional assistance. Individual assignments will be mainly of a practical nature.
The preliminary timetable of courses at Hetq Media Factory
Hetq Media Factory invites to apply
students from journalism and/or other faculties,
journalists from different newsrooms,
freelance journalists,
people with an interest in the media field.
It is required to
have an interest in the field of media production (current journalists, students, and people interested in journalism),
be assured that you have enough time for attending the classes and completing the assignments,
appreciate the importance of education, personal growth, and professional development,
be flexible in terms of innovation, changes, and understanding of differences.
Deadline for applications: July 15, 2020. Apply online.
Selection stages:
1) Selection of preliminary applications based on the online application,
2) Interview,
3) Small practical task if required,
4) Final selection and approval.
If you have questions or concerns, please call +374 44 20 20 48 or write to the following e-mail: [email protected]
The project is implemented by the Investigative Journalists NGO and is funded through a U.S. Department of State Public Affairs Section grant.
Allowed file types: .pdf, .doc, .docx, .xsl, .xsls, .jpg
No file choosen