We are small teams doing BIG things!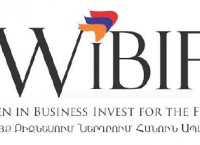 Women in Business: Intro-preneur Boot Camp
19 October, 2015, 08:44
Do you have an amazing idea for a business? Do you have an innovative solution to a common pain-point that will change the world for the better? You might be an entrepreneur!! Read on!!
Introduction
Join us for an exciting and powerful new program for Armenia's greatest resource, its youth! From professional development seminars and workshops to discussions with successful entrepreneurs, the goals of the WIBIF iBoot Camp are to empower and inspire participants to create their own economic opportunities, build regional networks of young entrepreneurs, and create new and innovative models for a business that can be started in their communities.
What will participants gain by participating in the WIBIF iBoot Camp?
Four full days (5-8 November) of dynamic workshops and seminars from top-notch experts to learn core skills
Enhanced professional and personal development
A new network of peers from all across Armenia
Guidance from an experienced mentor as you collaborate on an innovative business model
The opportunity to present your business to international and national experts!
This iBoot Camp is a project being implemented by Women in Business NGO and supported by the United States Embassy in Yerevan. This project will enhance the capacity of talented youth located throughout Armenia. The iBoot Camp will span four-full days of sessions facilitated by some of the leading Armenian experts and trainers. Evenings will also be active with networking opportunities.
The first three days of the iBoot Camp will focus on developing participants' skills, and the last day will put these new skills into action. Following the developmental part of the iBoot Camp, participants will be split into Working Groups.
Each group will be required to work together and design at least one presentation for a start-up business in a Shark Tank setting! Each working group will be guided by a WIBIF mentor, who will regularly check in with the participants to measure progress. Participants will virtually present to their peers and trainers for feedback on November 15th. Final presentations will be made on November 22 at a follow-up luncheon to a panel of experts who might offer assistance in realizing the plans.
Important: If you are unable to commit to these requirements, including the participation in the regional working groups and the attendance of the follow-up presentation in Yerevan (November 22, 2015), then please do not apply.
The total cost to participate is 1,500 AMD. This includes entry to all sessions and trainings, lodging at the conference center in Aghveran, all meals, and transportation from Yerevan and back. A rigorous application process for potential attendees will take place in order to ensure the most qualified and motivated aspiring entrepreneurs can take part. If you are interested in attending, please answer all of the following questions and submit the completed application with other required documents (CV & Letter of Recommendation).
*Although no one will be excluded because of their backgrounds, preference will be placed on applicants that are not from Yerevan.
More can be found here.
Allowed file types: .pdf, .doc, .docx, .xsl, .xsls, .jpg
No file choosen