We are small teams doing BIG things!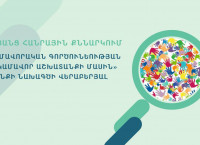 «Կամավորական գործունեության և կամավոր աշխատանքի մասին» օրենքի նախագիծ
09 June, 2020, 07:16
The Ministry of Labor and Social Affairs of the Republic of Armenia, in cooperation with the National Assembly Standing Committee on Science, Education, Culture, Youth and Sport, with support of the USAID-funded "Strengthening Electoral Processes and Political Accountability in Armenia" program of the International Republican Institute, invites all the relevant stakeholders to participate in an online public discussion on the Draft Law on Voluntary Activities and Volunteer Work, which will take place on June 17, 2020 at 11:00.
The package of the draft laws has been developed for the purpose of having a full legal regulation of voluntary activities and volunteer work (definition of unified legal regulations, harmonization of existing legal bases), as well as for the establishment of the institution of volunteers and the endorsement of necessary premises and mechanisms for the development of volunteer culture.
Through this online public discussion, the panelists will present the Draft law, the necessity of these reforms and the expected results, while the beneficiaries of the field will have the opportunity to voice questions, which will reveal issues that are visible in the field and are subject to regulation.
The public discussion will also be livestreamed via social platforms, and during the discussion there will be a simultaneous translation from Armenian to English for foreigners.
The application for registration will be open until June 11, 6pm. The participation is limited. In case of both confirmation and rejection of the participation, you will receive a response. In case of confirmation of your participation, you will also receive the agenda of the discussion and the respective ZOOM link to join it. Please, fill in the registration form via the following link:
https://cutt.ly/0yMxNPe
More details are available
here.
Allowed file types: .pdf, .doc, .docx, .xsl, .xsls, .jpg
No file choosen