We are small teams doing BIG things!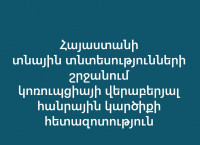 Public opinion household survey on corruption in Armenia
04 June, 2020, 13:33
About the project
The public opinion survey ('Survey') on corruption was conducted by the Caucasus Research Resource
Center Armenia (CRRC Armenia), commissioned by "Transparency International Anticorruption Center"
(TIAC).
The survey aimed at finding out:
the perceptions of Armenian residents on the overall situation in Armenia, corruption and its
manifestations;
their personal experience with corruption phenomena;
manifestations of public and individual behaviour towards corruption;
awareness and evaluation of anti-corruption initiatives undertaken in the country;
the main sources of corruption-related information;
changes in the perceptions and behaviours of Armenian residents after the months of April and
May 2018; and
in the event of comparable data, the changes in the perceptions of corruption and related issues over the past nine years.
The survey sets the task of generating practical information that can be useful to the Government, the civil
society and the private sector, in order to improve the public administration sector and develop anticorruption policies and programs.
Methodology

The survey questionnaire was developed by the CRRC-Armenia Foundation and TIAC, drawing on previous
survey questionnaires as well as the current developments in anti-corruption policy.
The survey data were collected between 17 October and 2 December 2019, through face-to-face
interviews. The survey participants included 1,500 RA citizens aged 18 and older (with 2.5 percent error
tolerance at a 95 percent confidence level). The data of the National Statistical Committee of the Republic
of Armenia on the regional distribution of the number of households was used for the sampling. The quality
of the collected data was checked by callbacks to about 17 percent of the respondents.
Outcomes:
Database (ARM)
Questionnaire (ARM)
Analytical report (ARM)
Executive summary
Presentation
Allowed file types: .pdf, .doc, .docx, .xsl, .xsls, .jpg
No file choosen